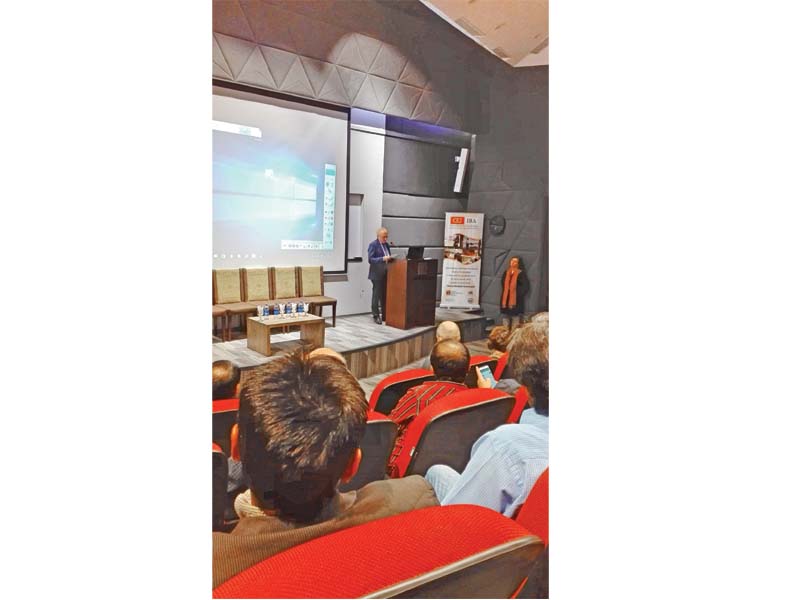 ---
KARACHI: The story of a young girl's struggle for freedom was shown at the Institute of Business Administration's (IBA) Center for Excellence in Journalism auditorium on Tuesday.

The screening of this documentary was part of United Nations - Pakistan's initiative to promote human rights through cinematography. This year's theme was 'Stand Up for Someone's Rights'.

The documentary tells the story of Sonita Alizadeh, a struggling rapper who aspires to achieve greatness but circumstances at home are dampening her spirit.

The film tells the tale of Alizadeh, who is of Afghan origin but is residing in Iran. She dreams of being a musician and making it big, but her mother's arrival from Afghanistan shakes her. Her mother hopes to marry off by selling her to a man. However, Alizadeh defiantly sings a song titled 'Bride for Sale', bringing attention to the topic of forced marriage.




The performance of the song itself is a remarkable feat, as female solo musicians are banned in Iran. She comes out brave and resolute in her determination. So much so that the songs gets viewership worldwide and she finally gets recognition as a young rapper. However, her struggle is not over yet for she wants to free herself from her life in Iran and gets a scholarship from an American institute based in Utah. The documentary brings to light her life and the struggles she experienced. The film was a three-year journey of filmmaker Rokhsareh Ghaem Maghami, who is of Iranian descent.

Later, a panel discussion was held during which Markus Heidingsfelder, an assistant professor at the school of arts, humanities and social sciences at Habib University, Massoud Hossaini, a photojournalist from Associated Press-Kabul, Anne-Claire Adet Coordinator Festival du Film et Forum International sur les Droits Humains, and Junaid Khan, a senior programme coordinator of the International Organisation for Migration, spoke in depth about the film. They raised pertinent questions such as is it was ethically correct for the filmmaker to be interfering in the rapper's personal life while making a film on her.

"Many young girls are finding it a business in Afghanistan to be able to sing and to dance," said Hossaini. "There are only a few girls who have done this; they became what they wanted to be. What if she comes back to Afghanistan and survives her second attempt; that would [show] how brave she is."

Khan asserted that, "It is a very brave thing to do; to escape from Afghanistan, living a difficult life in Iran."

Her narrative has been beautifully captured, he added. "For the refugees, it's a strange world; for the past three generations they have greatly suffered. It can make living difficult," explained Khan.

Earlier, Swiss consul-general Philippe Crevoisier said, "Switzerland is committed to human rights as [indicated] in our Constitution and tradition." "We are screening 23 documentaries in six cities across Pakistan. The issues being addressed range from human rights and migration to women empowerment in these films," said Vittorio Cammarota, the director of the United Nations Information Centre.

Published in The Express Tribune, December 8th, 2016.
COMMENTS
Comments are moderated and generally will be posted if they are on-topic and not abusive.
For more information, please see our Comments FAQ