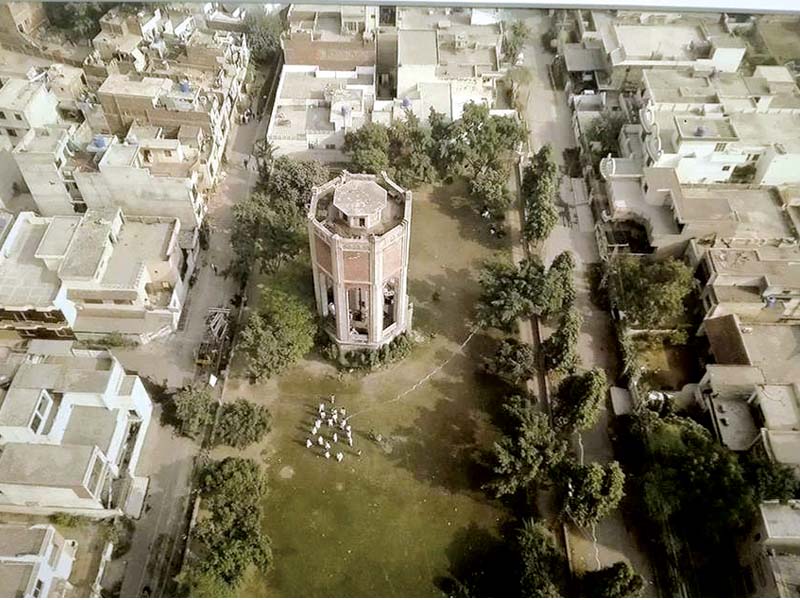 ---
LAHORE: Can urban creative practices stimulate agency and community engagement? Who determines the urban narratives in spaces of various contradicting parallel realities? And where do citizens position themselves in these spaces and what art can do about it?

To provide critical sites for experimentation in visual expression and experience, the Lahore Biennale 01 – a non-profit organisation – was launched at the 'City in Context' symposium, hoping to challenge and expand the scope of both.

The formal inauguration came on the last day of the four-day symposium that concluded at Alhamra on Sunday. The event was a mix of workshops, talks, performances, discussions and exhibitions aimed at discussing and expanding the existing ideas regarding urban complexities and art.

Hosted by the Goethe Institute of Pakistan in collaboration with the Lahore Biennale Foundation (LBF) and the Centre for Culture and Development, the forum is a culmination of two-year-long collaborative projects titled 'Urbanites – Art and Public Spaces in Pakistan' by Goethe and 'Stories We Tell – Aao Sunayen Kahani' by LBF.

The symposium brought together poets, writers, theoreticians, architects and artists to discuss on a multitude of issues such as potential of art in public spaces, urban creative processes and contested spaces during six discussion sessions.

The underlying aim of discussion sessions was to explore the questions such as  what does the 'right to the city' mean in places where the claim to urban space needs constant renegotiation and where occasional violence draws the borders of accessibility on urban maps?




Various sessions aimed at exploring the dynamics of curatorial premises in Lahore by addressing questions like what is not art, what are the existing and possible sites of display and what are the functions of art.

Rashid Rana, the artistic director for Lahore Biennale 01, envisions the inauguration as an ever-evolving process of art in public spaces rather than just one grand exhibition.

"Conservation is one of the many initiatives that has contributed to the objectives of this foundation," he said. "Over the course of the year, through many discussion sessions with experts from diverse fields, 'conservation' has served as a coexisting mechanism, generating debates and familiarising artists with curatorial premises."

Goethe-Institut Pakistan Director Stephan Winkler said art and public space in Pakistan were a critical exploration of the urban centres and their complexities and possibilities under the premise of individual artistic work and research approaches.

He said the projects incited discursive and artistic contributions and an intervention related to Pakistan's controversial and contested urban space. In the future, he added, the project aims to engage a broad audience with contemporary art and link emerging artist-curator generation in Pakistan with that in Germany.

Artistic research

Comprising several audio and visual installations, an exhibition dedicated to the city as site of investigation and intervention also ended with the symposium at the Alhamra Gallery on Sunday.

The exhibition featured work and research done during residencies of several artists in both Karachi and Lahore over the past year.

The work dealt with social awareness and global desires, developing landscapes and mindful walking acts, including documents and informal urban design practices and collective knowledge.

Miro Creamer, a German fashion and social designer, addressed the question of consumerism in local context through an audio projection and textile installation.

His work 'Chord of Desires' explored the tragic Baldia factory fire of 2012 and transformed his experiences with the victims' families and their narratives into art and design.

Honi Rayn's installation 'Walk Lahore' was inspired by exploring historical movements and relational aesthetics by walking in Lahore.

Her socially engaged art practice puts environment at the centre, since she has been interested in exploring how urban space affects human relations and how one can apply mindful techniques to everyday situations to create shift in perception.

Rayn's research methodology involved walks to different areas of the city investigating subjective geographies.

Shahana Rajini and Zahra Malkani's work  'Field Notes' revolved around exploring ruination of landscapes and degraded ecologies in relation to a mega-development project in Karachi, which has violently and systematically displaced indigenous population.

According to the artists, they examined and unpacked the relationship of marginalised township of Gadap to the city of Karachi.

Zoohaus/Inteligencias collective – a free, online database documenting different construction techniques from every region of the world, presented investigative work by architects Jaun Chacon Gargera and David Cardenas Lorenzo on informal urban design practices, traditional technologies and network of working communities in public spaces.

Published in The Express Tribune, December 5th, 2016.
COMMENTS
Comments are moderated and generally will be posted if they are on-topic and not abusive.
For more information, please see our Comments FAQ