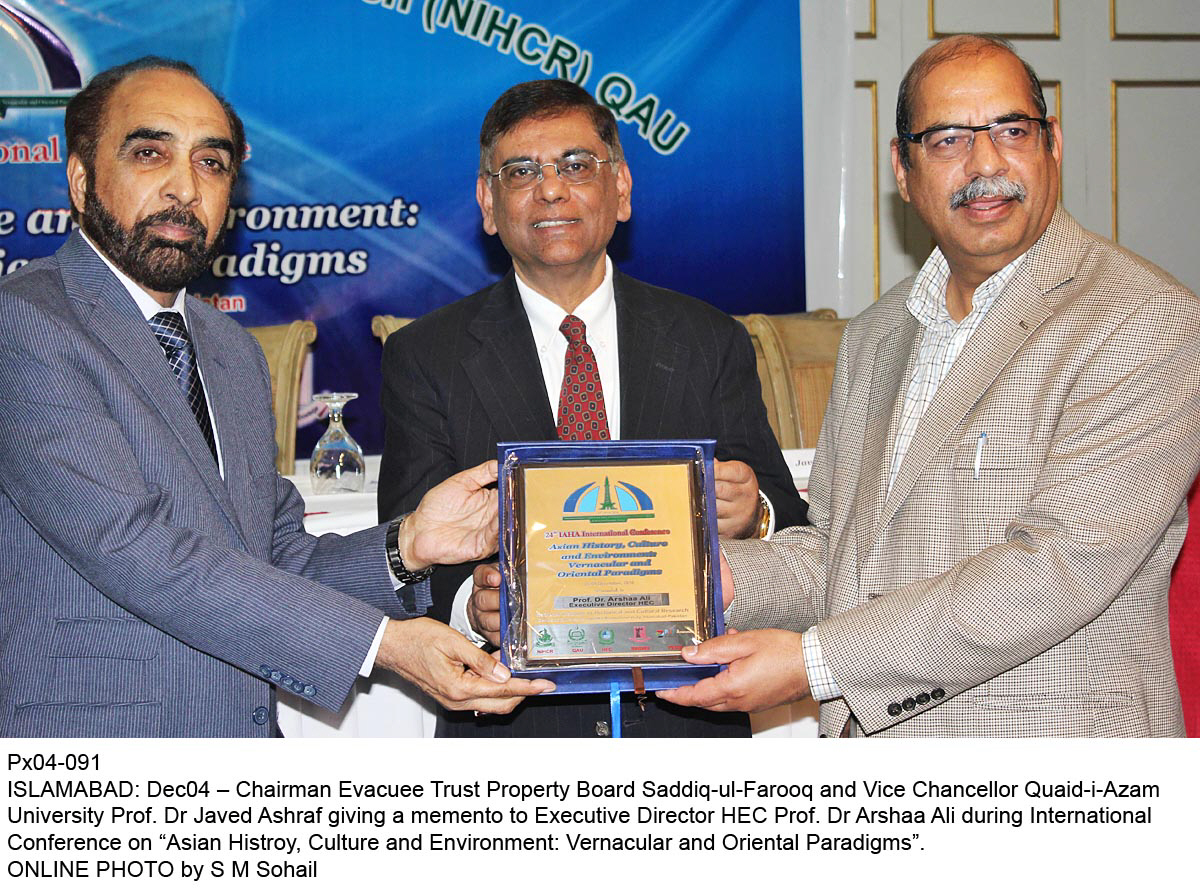 ---
ISLAMABAD: A nation cannot march forward unless it has adequate knowledge about its past.

This was stated by speakers at a five-day international conference on Asian History, Culture and Environment: Vernacular and Oriental Paradigms organised by the National Institute of Historical and Cultural Research (NIHCR), Centre of Excellence, Quaid-e-Azam University in collaboration with the International Association of Historians of Asia. The conference kicked-off on Sunday.

Pakistan Evacuee Trust Board Chairman Siddiqul Farooq said that history was the living memory of a society. A person, without proper knowledge of his or her past, was useless. Similarly, a nation cannot march towards its future without adequate knowledge of its history, he said.

Dr Khurram Qadir, former Director of the NIHCR, underlined vernacular contributions to the oriental aspects of Asian history, culture and environment.

Professor Mahendra Lawoti of Western Michigan University, spoke about the challenges of democracy in diverse societies of India, Nepal and Sri Lanka with special reference to Pakistan and Bangladesh.

Syed Wiqar Ali Shah, dean of the faculty of social sciences at QAU, hoped that the conference would expand the knowledge about the rich cultural heritage of Muslims. The NIHCR has a mandate to promote research in history and culture and this conference will encourage the cultural aspects of Pakistan history and the history of Asia, he said.

Shaheed Benazir Bhutto University Peshawar vice-chancellor Professor Dr Razia Sultana was of the view that history is the most significant aspect of human life since our present depends on our past and our future will depend on both our past and present. Without knowledge and analysis of history, no country could move forward, she said.

The incumbent President of International Association of Historians and the Senior Research Fellow of the NIHCR Dr Sajid Mehmood Awan said that the world is in perpetual transition, hence, history remains in persistent progression.

Till the time world is in transition the discipline of history would not cease to evolve, he observed.

Increasing complexities of ideas and the daily change in patterns of thinking with reference to historic interpretations of past events invite historians to define, refine and re-define what has happened in the past and the way it was reported earlier, he said.

Dr Awan emphasised that the conference was an attempt to decipher the changing patterns of historic events and multiple approaches to understand the phenomenon of change and growth.

QAU Vice-Chancellor Dr Javed Ashraf remarked that the participation of scholars from different parts of the world and their dialogue on multidimensional themes would enrich academic activities, not only in Pakistan and Asia, but the entire world.

He hoped that new ideas and dimensions of history and culture writing would be presented to posterity through the conference where the top scholars of the relevant fields are gathered from numerous parts of the world.

Earlier, NIHCR officer in charge Syed Umar Hayat said that IAHA has been active since 1960 and its sessions are being conducted regularly in alternate years.

He pointed out that for the first time in 56 years, this conference was being held in Pakistan.

Published in The Express Tribune, December 5th, 2016.