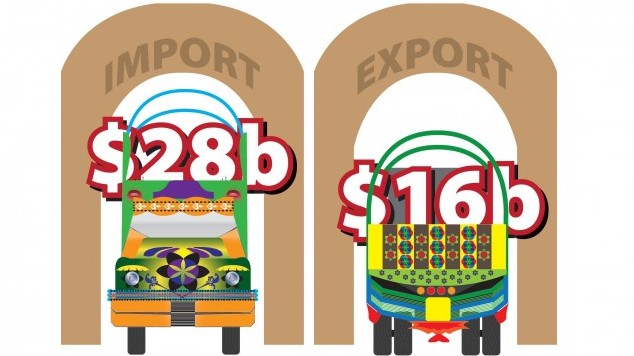 ---
ISLAMABAD: Pakistan's trade deficit has narrowed 14 per cent during July-April 2010 period as exports increased while imports dipped slightly, according to figures released on Tuesday.

Exports increased 8 per cent to $15.9 billion in the ten months ended April 30, against the corresponding period last year, according to trade figures released by Federal Bureau of Statistics (FBS) on Tuesday. Imports during the same period fell 2.8 per cent to $28.2 billion compared with $28.9 billion recorded in the corresponding period of last year, the FBS reported. However, independent economists are still skeptical about the revival of economic growth saying it is a temporary phenomenon.

The trade deficit in ten months narrowed to $12.3 billion from $14.2 billion, a dip of $2 billion. "Exports are outpacing imports but it is not sustainable," said Zafar Hasan Almas, an independent economist. "A jump in exports was because the country massively exported cotton yarn," he said, adding that it is far away from calling it a sign of economic revival. The latest trade figures come just a week before the government negotiates broader parameters of next financial year's fiscal and monetary policies with the International Monetary Fund (IMF). The talks will be held in Doha, Qatar from May 17 to 21.

A senior official of the Ministry of Textile said that the surge in exports may not continue in coming months because of two main reasons. The first being the government is considering to slap a 25 to 35 per cent regulatory duty on the export of yarn aimed at protecting the value-added textile industry, he said. A decision in this regard is expected in a fortnight. The second reason given was that the Euro was depreciating against all major currencies and would give comparative advantage to European exporters, the ministry official added.

Experts claim that Pakistan's exports to Europe, Islamabad's third largest trading partner, would become costly, at least for a short term, as the Euro has shed value against the rupee. The latest trade figures also beat the IMF's expectations. The Fund had calculated that Pakistan's trade deficit would remain at $11.7 billion due to sluggish growth of both exports and imports. Exports in April increased sharply by 31.5 per cent year-on-year.

The country exported items worth $1.74 billion in April 2010, which is $416 million higher than last year. Imports in April also witnessed an increase of 7.8 per cent against last year. Islamabad imported $3.02 billion worth goods last month against $2.8 billion imports of April 2009. The trade deficit in April 2010 was recorded at $1.3 billion. April's exports went down by 3.9 per cent in value term against a month earlier. Pakistan exported goods worth $1.74 billion against $1.8 billion of March 2010.

Imports also shrunk in April by 8.3 per cent against March as the country imported goods worth $3.02 billion against March imports of $3.3 billion. "The only good omen is that the Current Account Deficit, the gap between a country's international receipts and expenditures, will drop due to pick up in exports," added Zafar Almas.

Published in the Express Tribune, May 12th, 2010.
COMMENTS
Comments are moderated and generally will be posted if they are on-topic and not abusive.
For more information, please see our Comments FAQ