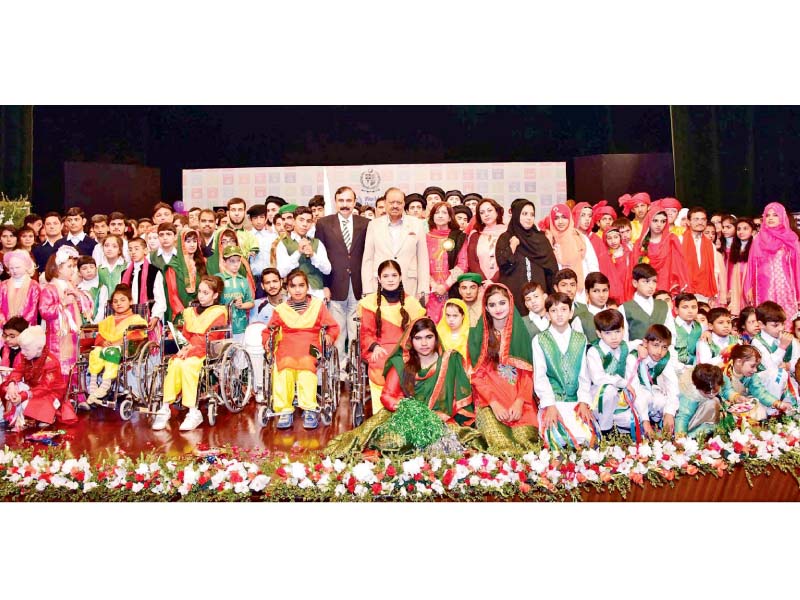 ---
ISLAMABAD: President Mamnoon Hussain on Saturday said it was the duty of everyone in the society to take care of the physically challenged, ensure their training, education and safeguard their rights.

He was speaking at an event held at the Pakistan National Council of Arts (PNCA) auditorium to mark the International Day of People with Disabilities.

President Mamnoon said that it was on this day that Pakistan had joined the comity of nations in reiterating its commitment to achieve sustainable development goals. He added that the physically challenged people should be considered as effective segments of the society and that they should not be discriminated against while their rights should not be usurped.

"These [physically challenged] children are not inferior to anyone in any way, and they are very loving and valuable part of our society," he added.

"You should not consider yourselves as inferior to any one and believe that you can also get education like other children," he said, adding that it was equally enjoined on the society to pay heed to the physically challenged children.

In this regard, the president directed that the relevant authorities develop a software in Urdu language which can be used by the blind people. He added that the Presidency would extend all cooperation in this respect.

He also assured that the job quota for physically challenged in government institutions would be fully implemented.

The entire speech and other parts of the event were translated and presented in sign language as well.

Later, President Mamnoon visited stalls of various goods prepared by special children of the capital and appreciated
their skills

Mamnoon appreciated all the institutions and their workers engaged in providing educational facilities to special persons and children.

Published in The Express Tribune, December 4th, 2016.
COMMENTS
Comments are moderated and generally will be posted if they are on-topic and not abusive.
For more information, please see our Comments FAQ