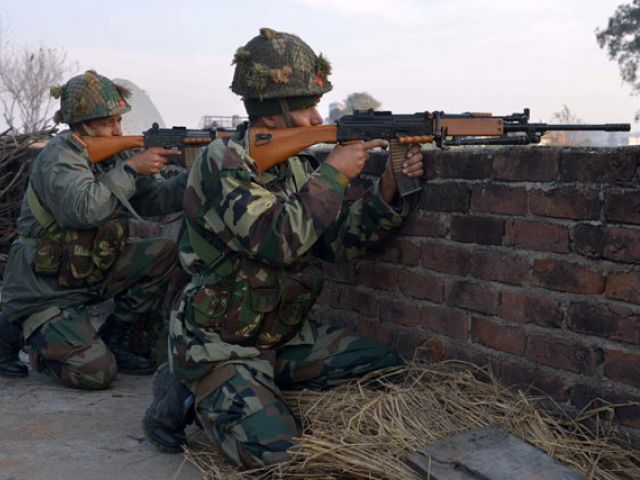 ---
SRINAGAR: Gunmen disguised as policemen stormed a major army base near the city of Jammu on Tuesday, killing at least seven security personnel and taking hostages in the boldest assault on a military installation in Indian Occupied Kashmir in recent months, officials said.

The attackers raided the base just before dawn, firing at officers before entering the officers' mess, where they took security men, women and children hostage for several hours, Jammu-based Indian army spokesman Manish Mehta said. "Soldiers fought back, securing the buildings and freeing the hostages," Mehta said.

'India will not attack Pakistan or AJK'

Four gunmen were also killed in the stand-off with security forces inside the command centre that lasted most of the day.

It was the most audacious attack on an Indian military base since September, when 19 soldiers were killed in an assault that India blamed on Pakistan-based militants. Pakistan denounced the charge as baseless.

The Indian army in a statement said four of its soldiers were killed in the initial assault after heavily armed gunmen wearing police uniforms stormed the base early Tuesday firing small arms and hurling grenades. Three Indian army men were killed in a rescue operation after the militants took 16 people hostage inside two buildings used by the families of the army officers.

Two women and children were among the hostages, the Indian army said. "In this rescue attempt one more officer and two jawans sacrificed their lives," it added.

Modi wants Pakistan immediately isolated after Uri attacks

Three bodies of the attackers have been recovered and operation to sanitise the complex continues, the statement said. "We have tightened the cordon and a combing operation will resume in the morning. If there is any militant, he will be neutralised," Mehta said.

The Indian army casualties included five soldiers and two officers.

One of the dead soldiers was a major while the rank of another officer remained unclear.

Earlier a senior local police officer said all four attackers were killed in the counter-attack by security forces. "Now the search operation is going on inside the premises," the officer told AFP on condition of anonymity.

Published in The Express Tribune, November 30th, 2016.