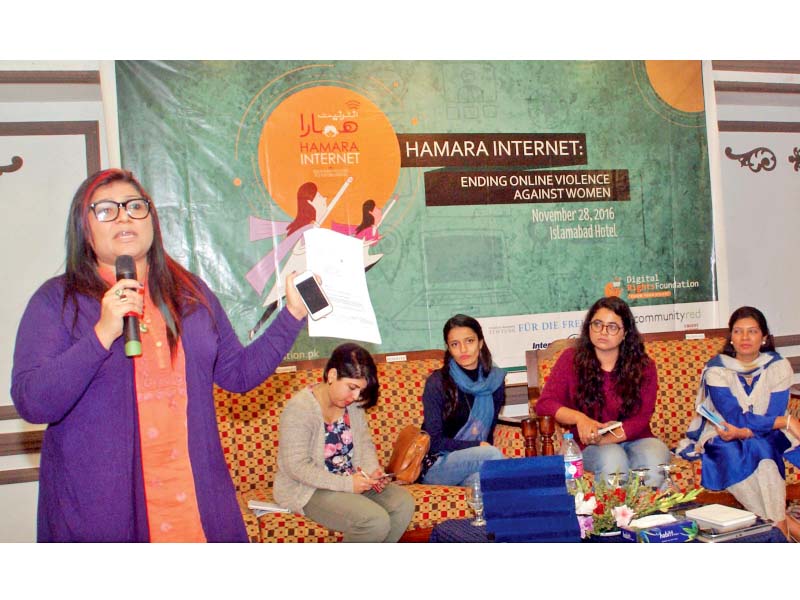 ---
ISLAMABAD: As the boundaries between the online and offline worlds diminish, women have had to face increasing levels of harassment while navigating the murky annals of the internet. At times, this harassment has followed them into their physical, offline lives, sometimes with deadly consequences.

With this in mind, a group of digital rights activists on in Islamabad Monday launched the country's first helpline to address harassment of women in cyberspace during a day-long seminar titled, "Hamara Internet - Ending Online Violence against Women".

The helpline has been launched by Digital Rights Foundation (DRF), a non-governmental organisation which focuses on research-based advocacy on information and communications technology (ICT) to support human rights, democracy and digital governance.

During the conference, DRF Executive Director Nighat Dad outlined how the concept of harassment is usually considered in the context of offline spaces, or real physical places, while harassment in the online world is largely ignored.

The biggest example in this regard, she said, was of Qandeel Baloch. Dad explained that the social media celebrity had been using online spaces the way she wanted to, not how society decided she should. This in turn made her the target of a lot of abuse online.

"It's sad that Qandeel never tried to reach out for help," Dad added.

Eventually, violence from the online world followed Qandeel to the offline world and claimed her life. "Qandeel's death was a message for opinionated, bold women - don't use the internet like this. "

Talking about another famous case where online spaces had very dangerous consequences for women in real life, journalist Haseeb Khawaja detailed the 2012 Kohistan video incident in which a jirga in a remote and conservative area of Kohistan allegedly ordered the honour killing of five girls after a clip of them singing and dancing was posted online.

"Whatever is offline is online, there is no disconnect between them and we shouldn't pretend otherwise," Khawaja warned.

Sana Ejaz, a journalist working with the state-run Pakistan Television, detailed how she became a victim of harassment online.

"I have personally faced identity theft on Twitter, as well as abusive messages and requests for sex," Ejaz said detailing how rumours about her were spread and her personal pictures posted online were misused.

"They don't just shame you, they go after your family," the broadcast journalist said, adding that "when it comes to our families we lose the will to fight back [and prolong the abuse]."

"When it was just me, I wasn't willing to give up."

Earlier, Women Country Representative Jamshed Kazi talked about how women face far more harassment than men, irrespective of whether it was online or offline.

"Women are faced with harassment 25 times more than men," he said while talking about the UN's Beat Me campaign. The campaign, however, came under criticism from some of the panellists who said that it puts the onus on the victim while ignoring the other forms of violence and abuse that women face.

Punjab Commission on Status of Women Chairperson Fauzia Viqar talked about their own helpline for women facing harassment in Punjab. She conceded that while they provide victims with information and register complaints, they lack the capacity to address harassment in the cyber sphere.

Later, the soft-launch of the cyber harassment helpline was held. The helpline will become operational from December 1.

The service can be reached at 0800-39393. Victims of online harassment can seek free, safe and confidential legal advice, digital security support, psychological counselling, and even a referral system.

The event was organised by the Internet society, and Friedrich Naumann Foundation for Freedom.

Published in The Express Tribune, November 29th, 2016.