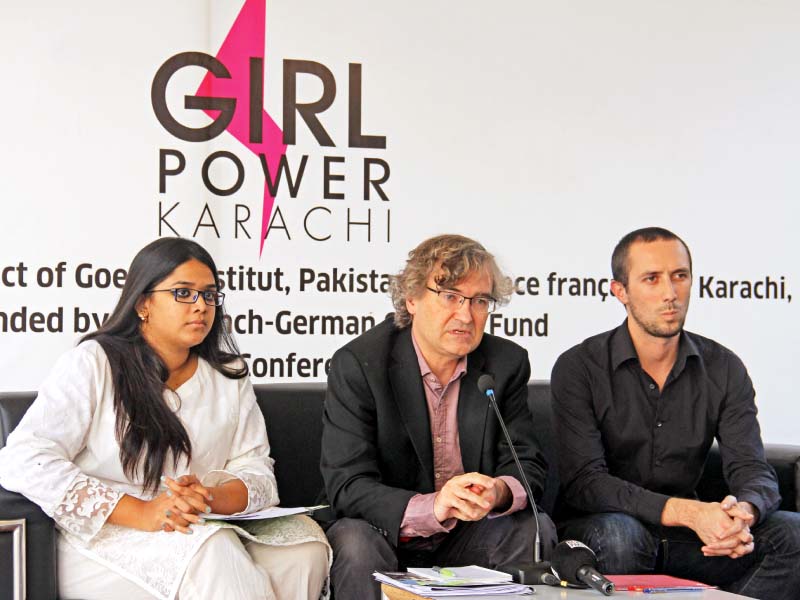 ---
KARACHI: Seeking to empower women, the Alliance Française de Karachi and Goethe Institut have launched a joint project titled 'Girl Power'.

The project, which has been funded by the Franco-German Cultural Fund, seeks to create spaces in Karachi where young women can pursue and express their music, dance and sporting aspirations and talents. It was launched at the Goethe Institut on Monday evening.

"The Girl Power project is all about urban movement and sports activities," remarked Goethe Institut director Stefan Winkler while speaking about the venture. Through this platform we plan to target young women who do not have access to spaces where they can showcase their talent, he added.

"This is an opportunity for young girls under from 14 to 30 years of age, who belong to under-privileged backgrounds to come forward and participate," said Goethe Institut programme coordinator Zoya Ahmed. The initiative is for all women who are interested in different activities but are never given an opportunity to showcase their skills, she added.

In Karachi both the [French and German] cultural centres share an excellent relationship with each other and with the host country, remarked Winkler. "We have been based here for almost 60 years, while the Alliance Française has been here for the past 62 years."

Female boxers

Five female boxers from France, including a Montana Belt winner, are coming to Karachi on Saturday, said Jean Loup, who is the head of studies at Alliance Française de Karachi. "Our aim is not to fight but to bring international athletics to Pakistan," he remarked.

Lyari is known for sports and many footballers and boxers reside there, he said, adding that their boxers will train about 40 Pakistani boxers from Lyari, he said. The trainers will hold three workshops and boxing sessions at Lyari, Alliance Française and Red Bull Boxing Club, according to Loup.

Calling all dancers

"About 100 girls in Karachi will be taught urban movement and how to express themselves through dance," said Winkler, while sharing the plans for female dancers in the city.

"We are bringing in three trainers from Germany for this purpose. All participants will be given a chance to showcase their skills and participate in the activity," he added.

The trainers land on December 1 and will begin the week-long training. A closing ceremony will be held on December 10.

Published in The Express Tribune, November 29th, 2016.
COMMENTS
Comments are moderated and generally will be posted if they are on-topic and not abusive.
For more information, please see our Comments FAQ