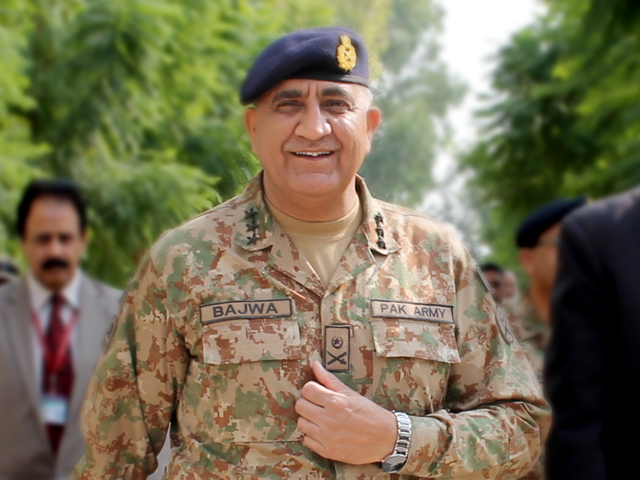 ---
ISLAMABAD: An intense guessing game on the replacement of army chief General Raheel Sharif came to an end Saturday when Lieutenant General Qamar Javed Bajwa was appointed as the new Chief of Army Staff.

Bajwa will replace Gen Raheel, who is set to retire on November 29.

Meanwhile, General Zubair Hayat was appointed as the new Chairman Joint Chiefs of Staff Committee (CJCSC) and is set to take charge from Monday, just a day before the formal ceremony scheduled for the handover of the command of the army to its new chief.

New Army chief should carry forward Gen Raheel's legacy: Khawaja Asif

Traditionally, the prime minister welcomes the new army chief and CJCSC soon after their appointment.

The premier called on President Mamnoon Hussain at the Aiwan-e-Sadr on Saturday where the two discussed matters of national importance.

Gen Qamar Bajwa, Gen Zubair Haya meet PM Nawaz

Both the newly-appointed generals also met the prime minister at the PM House in Islamabad.




Qamar Bajwa in focus


Lt Gen Bajwa attended the Pakistan Military Academy's 62nd long course, and was commissioned in the 16 Baloch Regiment in October 1980.




[brid video="80904" player="7247" title="Gen Qamar Bajwa Gen Zubair Hayat arrive at PM House"]



A graduate of the Canadian Forces Command and Staff College, Toronto, Canada; the Naval Post Graduate University, California and the National Defence Univesity, Islamabad; Bajwa has been posted at several operational and staff positions in the army.

-Commanded Pakistan Contingent in Congo

-Served as chief of the army's training and evaluation branch

-Instructed at the School of Infantry and Tactics as well as at the Command and Staff College in Quetta

-Served as a Brigade Major of an Infantry Brigade and Chief of Staff of Rawalpindi Corps

-Commanded the army's 10th Corps – Rawalpindi as Corps Commander, which is responsible for defending the country's frontiers at the Line of Control

He was as the IG Training and Evaluation — the same position General Raheel - before being appointed as the COAS.

PM calls Gen Raheel finest military leader of his time

[brid video="80890" player="7247" title="Lt Gen Qamar Javed Bajwa appointed new army chief"]

Zubair Hayat in focus




The newly-appointed CJCSC Lt-Gen Hayat was previously responsible for the safety and security of the country's nuclear programme.

He is a graduate of Fort Sill Oklohoma, USA, Command and Staff College Camberlay, United Kingdom and National Defence University, Islamabad.

Hayat was commissioned in the Pakistan Army's Sindh Regiment in 1982, and attended the Pakistan Military Academy's 62nd long course.

He has been posted at several important operational and staff positions in the army where he attained extensive experience of command, staff and instructional appointments, and is considered an excellent military officer.

-Served as adjutant at PMA, Brigade Major of an Infantry Brigade

-Army and Air adviser at Pakistan Embassy in UK

-Served as Chief of Staff of a Strike Corps

-Private Secretary to COAS

-DG Staff Studies Directorate at GHQ

-DG Strategic Plan Division (SPD), which ensures the safety of nuclear institutions

-Commanded 31 Corps Bahawalpur