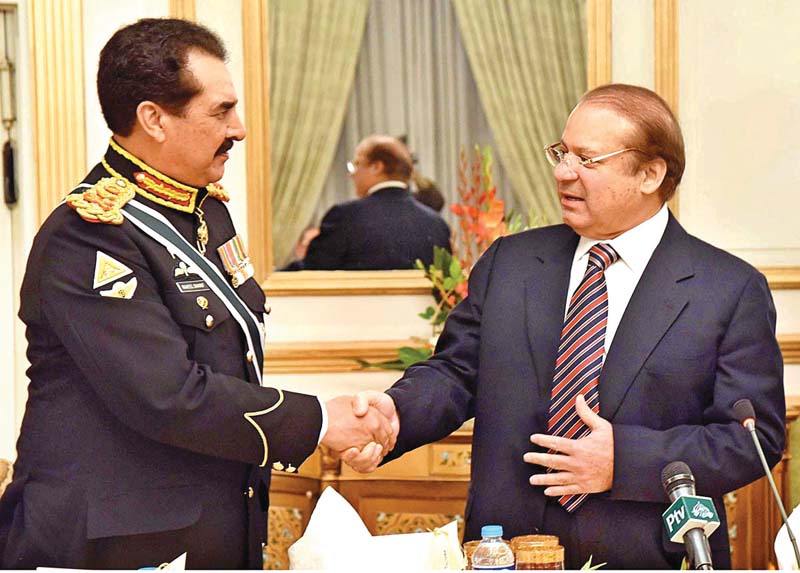 ---
ISLAMABAD: In a glowing tribute to the outgoing Chief of Army Staff on Thursday, Prime Minister Nawaz Sharif said General Raheel Sharif had proved beyond a shadow of doubt that he was one of the finest military leaders of his generation.

Speaking at a farewell dinner hosted in General Raheel's honour, PM Nawaz said: "As the chief of army staff, Gen Raheel has made the most difference in the service of our country.  We have successfully established the writ of the state and reclaimed every inch of territory under our sovereign control."

Gen Raheel is one of the finest leaders of this generation: PM

In a rare broadcast, the state-run Pakistan Television showed the entire ceremony live, right from the start as senior military commanders arrived one by one. The dinner itself was hosted in an ambience punctuated by smiles, with the Chairman Joint Chiefs of Staff (CJCS), three services chiefs, close aides to the prime minister and senior-most generals all sharing the dinner table at the Prime Minister House.

"General Raheel belongs to a family which is second to none when it comes to gallantry and heroism," Premier Nawaz noted in his speech. "They have a tradition of serving the nation and laying down their lives in the line of duty," he said.

"The shahadat [martyrdom] and award of Nishan-e-Haider to Major Aziz Bhatti Shaheed and Major Shabbir Sharif Shaheed is itself a unique honour of his family," the prime minister added, referring to Gen Raheel's uncle and brother, both of whom were conferred the nation's highest military honour for laying down their lives in its defence.

"Gen Raheel's journey from a young, devoted and brilliant cadet officer to the chief of army staff is marked by all the hallmarks of professional distinction and excellence," Prime Minister Nawaz said, describing the outgoing army chief's military career.

"As adjutant and later commandant of Pakistan Military Academy and GOC of the 11th Infantry Division, he stood out in the discharge of his responsibilities," the premier said. "His services as corps commander Gujranwala and inspector general for training and evaluation in the Pakistan Army prepared him well for responsibilities as the chief of army staff."

Premier Nawaz added that it was under Gen Raheel's leadership that Pakistan's armed forces confronted not only external threats but also the menace of terrorism. He said Pakistan's armed forces could surely take pride in the flawless execution of Operation Zarb-e-Azb which was recognised as the most comprehensive, robust and successful anti-terrorism operation anywhere in the world.

If Pakistan launched surgical strikes, India would remember for generations to come: Gen Raheel

"It has made the entire world aware of our unflinching resolve and commitment to root out terrorism as we accomplished what countries with far more resources have not been able to achieve in much longer periods."

The prime minister acknowledged with great appreciation that Gen Raheel always led from the front.

As Gen Raheel steps down, it will be the first time in decades that Pakistan's army chief will retire after completion of his term without any extension. His two predecessors – Ashfaq Parvez Kayani and Pervez Musharraf – remained in the top slot for six and 10 years, respectively.

Although Gen Raheel had himself announced almost a year ago that he would not take any extension, speculation about whether he would be hanging up his uniform continued till earlier this week until the military's media wing confirmed publicly that he had started a farewell tour of army formations across the country.

Prime Minister Nawaz will leave for Turkmenistan today (Friday) on a two-day visit to attend the Global Conference on Sustainable Transport being held in Ashgabat under the auspices of the United Nations. He is expected to announce his picks for the two top slots of CJCS and army chief upon his return.

Published in The Express Tribune, November 25th, 2016.

 
COMMENTS (2)
Comments are moderated and generally will be posted if they are on-topic and not abusive.
For more information, please see our Comments FAQ