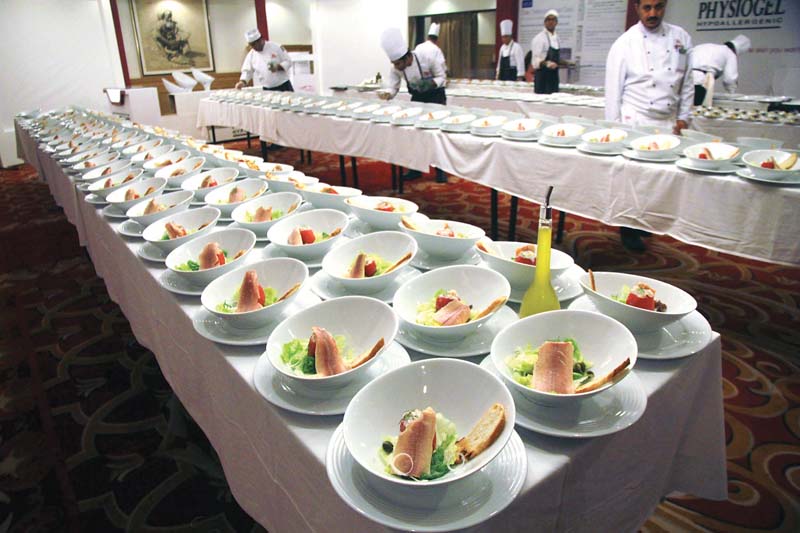 ---
KARACHI: To enhance the taste buds of the city's residents and treat them to the delights of a different type of cuisine, the Belgian Food Festival was inaugurated by the newly appointed Belgian ambassador to Pakistan, Frederic Verheyden.

The festival comprised 21 dishes in total, including appetisers and dessert. Hosted at the Marriott Hotel's Nadia Coffee Shop by the Pakistan-Belgium Business Forum, entry to the festival, which ended on Thursday, was Rs2,600.

5 meals in Karachi that will hurt your wallet




The dishes included in the price of entry were well worth the high cost as they included rich and complex creations made in true Belgian style. Beginning with a North Sea shrimp cocktail and smoked trout from Burges, which was a bowl comprising a large red tomato, filled with mini shrimps and served with iceberg lettuce and a piece of smoked salty trout in between, the dishes were gastronomical delights. In the entrée section, one of the main courses, the Grilled Arabian Sea Salmon with Belgian Endives, was very different to what is usually served in Pakistan, as the fish was extremely salty and had to be seasoned with lemon. The Flemish Beef Stew with Baby Potatoes was similar to the locally prepared Nihari and was served with French fries on the side.




In the dessert portion, assorted Belgian cheese and Belgian chocolates were served on a platter. Brussels waffle with vanilla ice cream and hot chocolate sauce was also served, allowing the crowd to get a taste of the world famous chocolate that Belgium is known for. Though the vanilla ice cream was very good and did not melt until it reached the participant's mouth, the waffle was harder than it should have been and was difficult to cut.

Entice your taste buds with Zaoq Restaurant

"I have found there is more to Pakistan than fighting against terrorism and drugs. It is adding to regional stability and the defence of human rights issues," said Verheyden, who will serve as ambassador to Pakistan for 15 more months.

He said his country has business ties with Pakistan in several industries besides food products or food-processing. "Belgium plans to play a meaningful role with Pakistan in terms of trade," he said.

Published in The Express Tribune, November 25th, 2016.