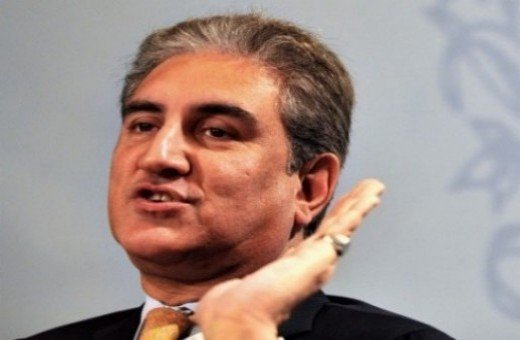 ---
ISLAMABAD: Pakistan Foreign Minister Shah Mahmood Qureshi said on Tuesday that all issues including Kashmir and water would be discussed with India on the negotiation table and said that no miracle should be expected from talks between the two neighbouring countries.

Krishna has accepted the invitation to visit Pakistan on July 15. The announcement came after his telephonic conversation with Pakistan Foreign Minister Shah Mehmood Qureshi. The two officials discussed steps to carry forward the stalled peace process between India and Pakistan.

Addressing a press conference at the Foreign Ministry on Tuesday, Qureshi said that the government would keep Pakistan's concern at the forefront and would not step back form its principled stance.

The foreign minister said that Indian External Affairs Minister S M Krishna would visit Pakistan on July 15 while Indian Home Minister P. Chidarbaram was expected to visit Pakistan on June 26 on the occasion of SAARC conference. The visiting Indian delegates would meet Interior Minister Rehman Malik separately.

Terming the water issue as a serious matter between the two countries, the FM said that it is a major problem and there is great need for talks on that issue, adding that both the countries have a mechanism to solve this issue, that is based on Indus Water Treaty.

Responding to a question, Shah Mehmood Qureshi said that Pakistan has reservations on Kishan Ganga Project and wants to appoint neutral experts and court of arbitration on this issue. "There are some issues regarding water that we need to raise with India", he added.

Answering another question, the foreign minister said that the trust deficit will be bridged by Indo-Pak talks, adding some elements might try to stall the peace process. He said that both Pakistan and India are victims of the menace of terrorism and there is a need to strengthen anti terror mechanism. The foreign minister said that the Mumbai incident has halted the process of CBMs and that an act of terrorism should not be allowed to impede the process of talks.

Qureshi termed the telephonic conversation with his Indian counterpart as a positive development and said that bilateral and other important issues were discussed between the two countries in the talks that continued for more than half an hour.

The two foreign ministers were mandated by their prime ministers in Bhutan to meet and work out modalities for restoring trust between the two countries. Contact between the estranged neighbours was intensified in recent months, seen partly as a result of US pressure for a solution in the volatile region. The July talks will be the third major contact between the countries in six months.