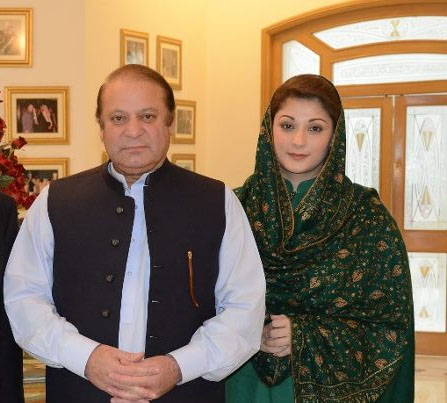 ---
ISLAMABAD:

Submitting documentary evidence on the 'legitimacy' of their assets before the Supreme Court on Tuesday, Prime Minister Nawaz Sharif and his daughter, Maryam Nawaz, claimed their London apartment was bought through Qatari investments.


Along with a 397-page document consisting details of transactions as well as receipts of payments since 2011, the Sharif family submitted a letter from a Qatari prince claiming the flats were purchased through the settlement of accounts between his family's company and the Sharif family.

Panama leaks case: PTI submits 'evidence' against Sharif family


PM Nawaz's children's counsel Akram Sheikh submitted a letter from Qatari Prince Shaikh Hamad bin Jassim bin Hamad bin Abdullah bin Jassim bin Muhammed Al Thani to the top court's larger bench.




The letter addressing the apex court states that in 1980, Mian Muhammad Sharif (Nawaz Sharif's father) invested 12 million Dirhams in the Al Thani company belonging to the Qatari prince's father. "In the year 2006, the accounts in relation to the above investment were settled between Hussain Nawaz Sharif and Al Thani family, who then delivered the bearer shares of the companies referred in para 4 above to a representative of Hussain Nawaz Sharif," the letter read.



However, responding to the letter Justice Khosa asked Sharif family counsel, Akram Sheikh, whether the Qatari prince will appear as witness in court. The justice also observed the letter contradicts PM's earlier stance on the London flats.
The premier's family submitted the documents hours before a larger bench of the Supreme Court resumed hearing of a slew of petitions filed primarily against Prime Minister Nawaz Sharif in the wake of Panamagate scandal.
The documents consisting of 397 pages contain details of transactions as well as receipts of payments since 2011. The documents also consist of details of PM's wealth tax of 2011 and 2012. The premier has also submitted nomination papers and his daughter's wealth tax details.



The apex court had directed all parties to submit documentary evidence in support of their claims in connection with Panama Papers leaks case by November 15.




Further, the bench expressed anger at PTI's legal team for not submitting relevant documentary evidences in Panama case. "You have disappointed us by filing a huge number of documents which have no relevancy to this case," the bench told PTI.




The Pakistan Tehreek-e-Insaf on Monday submitted stacks of documents to substantiate its allegation of corruption against the ruling Sharif family.


Panama Papers, a leak of classified documents of a Panama-based firm, revealed in April that three scions of the Sharif family owned offshore companies in international tax havens.

In its documentary evidence, PTI's legal team has tried to establish that the Sharif family has owned London properties since 1993 and not since 2006 as they claim. Along with Premier Sharif, the PTI is also trying to implicate his daughter, Maryam Safdar, who is regarded as his political heir.

Sharif family laundered Rs145m to evade taxes, claims Imran

One of the certificates – dated February 7, 2006 – which bears Maryam's signs, shows her as a 'sole shareholder' of Nescoll limited – one of the two companies that allegedly owned the Sharif family's properties in London as revealed in the Panama Papers.

"The undersigned Maryam Safdar, being the sole shareholder of the company, hereby confirms the adoption of the following resolutions. It was noted LZ Nominees Limited was reappointed as a nominee director of the company.

"Thus; Resolves that reappointment of LZ Nominees Limited as nominee director for the company with effect from 13 May 2004 be and is hereby accepted and approved by the company and the sole shareholder of the company," reads the document.

Earlier, Maryam in her reply before the Supreme Court had claimed that she was only a trustee and not a shareholder or beneficiary of the properties.

Moreover, her brother in his reply had claimed that he had purchased these properties in 2006 through the money given to him by his grandfather after selling his business in Dubai.

"According to entries in Her Majesty's Land Registry the said suites are owned by the above offshore companies namely M/S Neilson and M/S Nescoll, both registered in BVI Ansbacher AG Zurich.

Maryam Nawaz still PM's dependent, says PTI

"These companies are again operated and controlled by Mr Urs Specker. The management of these suites is being done by Mr Ridley of Dibb Lumpton Broomhead, Solicitors of London. The link of these luxury suites is beyond any speck of doubt," reads another document in volume two.

Volume one of the PTI documents focuses on Maryam Safdar and Hussain Nawaz Sharif's overseas assets. Volume two is mainly based on purported money laundering of Sharif family in 1980 and 1990s. In this volume, the PTI has reproduced the case prepared by Rehman Malik as the Federal Investigation Agency's (FIA) former additional director general.

Malik sent his articulation in 1998 to then president of Pakistan, chief justice, Ehtesab commissioner and army chief during Nawaz Sharif's second term as the prime minister. No action was taken on his investigations by any of the investigating agencies.

Volume three gives details of tax record of the Sharif family since the 1970s and details of loans the family got written off. In some of the documents, the PTI has delineated how wealth of the Sharif family multiplied and they became business in three decades.

PM Nawaz's children submit replies in Panamagate case

Most of the documents are reproduction of record already published in media or submitted before different forums in the past. Many of the details given in these documents seem extraneous and appear to be enhancing the scope of investigations beyond Panama Papers.

"We should have provided concise record and must have remained focused on Panama leaks. There seems to be no coherence in the material submitted today," one of the members of the PTI legal team said, while commenting on the record before the court.

PTI Chairman Imran Khan had a detailed meeting with his lead counsel Hamid Khan late in the evening. According to Ishaq Khakwani, the PTI's 686-pages are chronicles of the Sharif family's wrongdoings, adding it is now for the lawyers to submit summaries in their narratives.

Clarification: An earlier headline for this story mistakenly said the London flats were 'gifted' to the Sharif family. As per the document submitted by the Qatari prine, the properties were part of a business settlement, not gifts. The error is deeply regretted. Editor