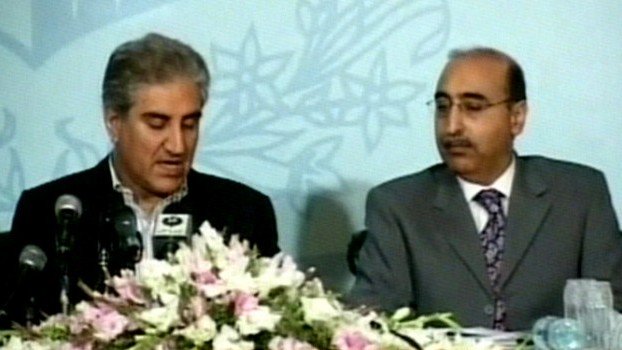 ---
ISLAMABAD: Foreign Minister Shah Mahmood Qureshi met a group of former foreign ministers, foreign secretaries and ambassadors on Monday  to consult them on the resumption of the peace process between Pakistan and India.

The meeting was attended by Abdul Sattar, Inam ul Haq, Akram Zaki, Dr. Humayun Khan, Dr. Tanvir A. Khan, Shehryar M. Khan, Najmuddin Shaikh, Riaz H. Khokhar, Aziz Ahmad Khan, Ashraf Jehangir Qazi, Asif Ezdi Shah and Tariq Osman Hyder. Foreign Secretary Salman Bashir also attended the meeting.

Briefing the group on the Thimphu meeting on the margins of the 16th SAARC Summit, the Foreign Minister said that while the two countries had agreed to come back to the negotiation table to discuss all issues, in order for the peace process to achieve concrete results, it was important that the dialogue between the two countries continue uninterruptedly.

He said the Thimphu meeting was held in a cordial atmosphere. The two leaders had agreed to take note of each other's concerns and resume the peace process in the spirit of resolving all the issues on the basis of sovereign equality and mutual respect.

It was also agreed to take necessary measures towards promoting mutual confidence and mutual trust.      The Foreign Minister underlined that terrorism was a regional issue and had to be dealt with through cooperation. He said he was looking forward to having a telephone conversation with his Indian counterpart on Tuesday.

Pakistan wanted that the momentum generated at Thimphu talks be sustained, he said and expressed the hope that a meeting between the two Foreign Ministers would take place soon so that the peace process could be resumed without further delay.

The Foreign Minister welcomed suggestions made by the participants. An in-depth discussion on the Jammu and Kashmir dispute also took place. The Foreign Minister said that the government of Pakistan had taken a principled position on this core issue. He strongly believed that no viable solution of the dispute could be found and implemented unless it was in accordance with the aspirations of the people of Jammu and Kashmir. He said it was encouraging that the Kashmiri leadership across the board had welcomed the resumption of dialogue.

The Foreign Minister said that the Foreign Office was Pakistan's first line of defence. It would always be there to protect and promote Pakistan's interests around the globe. He added that as the Foreign Minister of Pakistan, he had always made an effort to consult all stakeholders and proceed with consensus on issues of national importance.
COMMENTS
Comments are moderated and generally will be posted if they are on-topic and not abusive.
For more information, please see our Comments FAQ