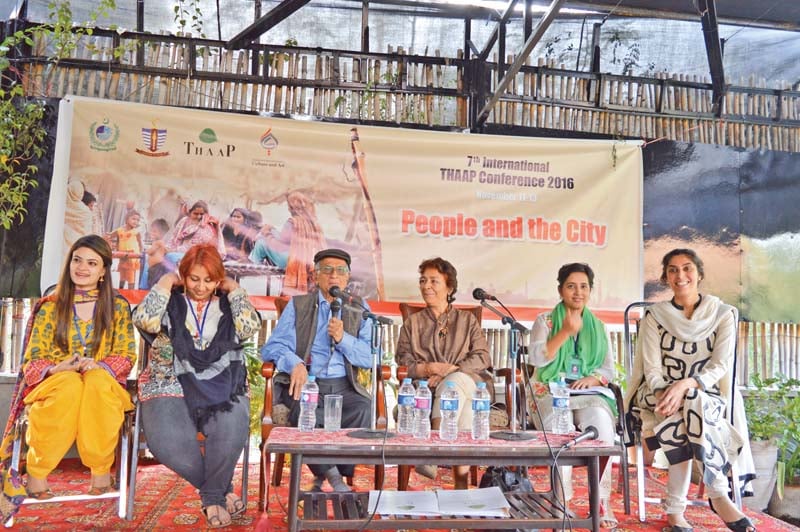 ---
LAHORE: Six papers on issues concerning urbanisation were presented on the third day of THAAP conference on Sunday.

About the sessions, THAAP CEO Sajida Haider Vandal said Sunday's presentations questioned why people are not given the opportunity to play a role in shaping a city if they are the ones who make it. She added a city or town would be just a mass of debris without people there. People gave city a character, she said. "Given the diversity of the papers presented today, I believe we managed to suggest many ways in which decision-makers can reach out to communities and people."

Last two

The sixth session of the conference was chaired by Dr Zahra Taraneh Yalda, an architect and city planner from Iran. The first paper of the day was by Ammr Vandal, an associate principal at nARCHITECTS, USA. It was presented by Professor Pervaiz Vandal.

The paper discussed the winning proposal presented in adAPT New York City, a competition sponsored by NYC Housing Preservation and Development Department.

It was on the NYC administration's new plan to introduce additional choices within the city's housing market and accommodate its growing households of one or two persons.

The second paper was presented by Mehwish Abid, a researcher and architect. Her paper titled, 'Being and the City' highlighted the importance of understanding spiritual context to understand modern era space.

The paper of the session titled, 'Remembering Manto: City, Architecture and Fiction' was presented by Razia Latif, an assistant professor at Razia Hassan School of Architecture of Beaconhouse National University, and Professor Dr Gulzar Haider, dean of the institute. Their paper examined the work of Saadat Hasan Manto, an author, and used it as the basis for establishing an architectural design project in two unoccupied distinct spaces and making them conducive to reading and storytelling.

The next paper by an urban planner, Hafsa Imtiaz, was titled, 'Public Redefinition of Green Spaces in the New Developments of Lahore'. The paper aimed at using activity mapping and photographic survey to understand new developments of Lahore and available green spaces from people's point of view.

The next session was chaired by the dean of School of Architecture at BNU. The fifth paper of the day was presented by Swati Pujari, an architect and an urban manager. It was titlted, 'Urban Governance Perspective Based on Citizen's Response to Gorkha Earthquake 2015'. It highlighted the history and evolution of communal and self-organised groups and their role in enhancing as well as assisting the government in taking decisions for the rehabilitation of people after the 2015 earthquake.

The sixth paper was presented by Yalda. Her paper titled, 'Towards People's Right to Iranian Cities: Rasht and Chabahar' highlighted a history of what these two cities had gone through.

Published in The Express Tribune, November 14th, 2016.

 
COMMENTS
Comments are moderated and generally will be posted if they are on-topic and not abusive.
For more information, please see our Comments FAQ