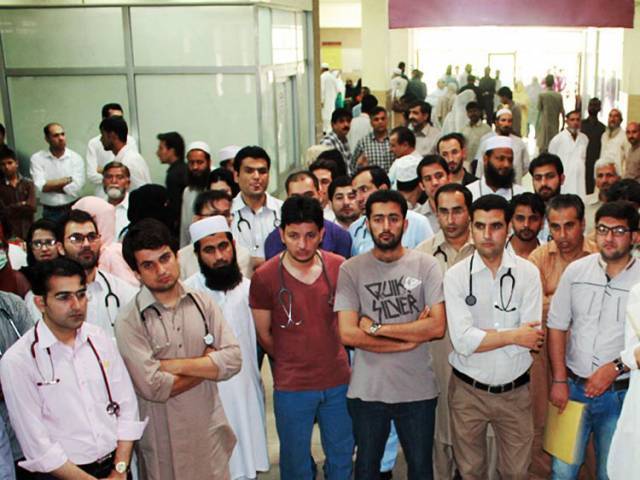 ---
LAHORE: In yet another desperate move by junior doctors of Lahore, a day and night protest will be held Tuesday (today) in front of the Chief Minister's Secretariat on Mall Road to force the health authorities to accept their demands.

A day earlier, the YDA had set up camps at Mayo Hospital and collected signatures for support from the paramedical staff, nurses and doctors.

"We are going to launch a 24/7 sit- in in front of the Chief Minister's Secretariat," said Dr Zafar Ullah, spokesperson for one of the YDA groups. He added the doctors would sit there until all their demands were met.




"We demand fool-proof security at government hospitals of Punjab and declare hospitals zero-tolerance zones," he said.

"Health Secretary Najam Shah must be sacked for misusing public offices to victimise doctors, nurses and paramedical staff over personal grudges," said Zafar.

He further added that unjust decisions towards several doctors, nurses and paramedics of Mayo hospital should be taken back.

He said as a result of the enquiry committee, the public had started to believe if continued to torture nurses and paramedics, they would get quality treatment.

"No action or enquiry was conducted against the hooligans and culprits who tortured the medical staff," he concluded.

Unattended patients

Thousands of patients from across Lahore have been deprived of medical assistance since the past 12 consecutive  days, the OPDs of three major hospitals including Jinnah, Mayo and Children hospital have been suspended, while OPDs at Sir Ganga raam, Lady Aitchson and Lady Willingdon were partially closed.

After the junior doctors' protest, patients are reluctant to visit public hospitals believing that doctors would beat them for no reason.

"Now we are going for treatment to nearby homeopathic clinics, as we don't have extra money to get treatment at private hospitals," said Malik Yousuf, a resident of Garhi Shaho.

According to a rough estimate by doctors themselves, there are at least 4,000 illegal medical practitioners, working around the Lahore with no certification where patients are being forced to go.

Confrontations between two factions of YDA

Over the positions of YDA Dr Shehyar Niazi group, another faction of YDA, Dr.Amir Bandesha and Dr Shabir Chudhray groups of YDA are remained mum.

A source told The Express Tribune the junior doctors involved in the protests should not be considered doctors as around 50, 000 people could not be treated due to their strike.

"The government should deal with them with stern action," he said adding that the protest in front of CM's secretariat was nothing but a blackmailing tactic. "The inquiry which was constituted was impartial and contained renowned professors of medicines, Dr Shehryar Khan Niazi must be punished, as him and his group were involved in brutally torturing poor patients," he said.

The health department spokesman, when contacted, also said that government would not withdraw the decisions.

One demand accepted

On Monday, the health department accepted one of the demands by the YDA and issued a press related to the security of the hospitals.

The statement said the Safe Cities Authority would extend cooperation to Specialized Healthcare and Medical Education Department in ensuring fool proof security for government hospitals. The security system of the hospitals will be set on modern lines.

This decision was taken during a meeting between Secretary Specialized Healthcare and Medical Education Najam Ahmed Shah and Safe Cities Authority Chief Operating Officer Punjab Akbar Nasir Khan.

Health Secretary Najam Ahmed Shah said control rooms and remote data centres would be set up for security of the hospitals.

Published in The Express Tribune, November 8th, 2016.

 
COMMENTS
Comments are moderated and generally will be posted if they are on-topic and not abusive.
For more information, please see our Comments FAQ