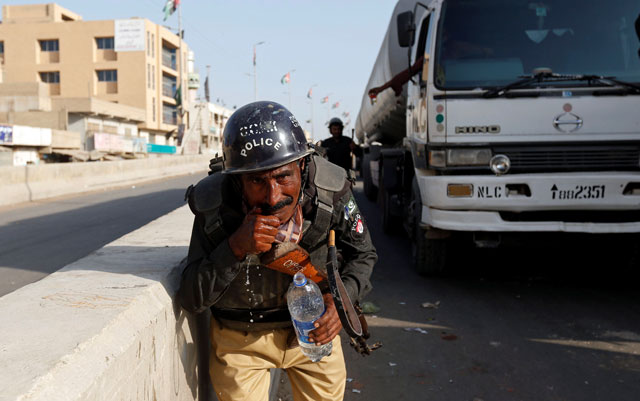 ---
KARACHI: At least four policemen were injured on Monday as Shia protesters clashed with law enforcement agencies, demanding release of their leaders.

Police arrested dozens of people in a crackdown on more than 90 seminaries in Karachi, following a series of sectarian shootings.

The police personnel dispersed the protesters by firing tear gas, rubber bullets and automatic weapons at protesters in the city's Malir and Model Colony areas.

Faisal Raza Abidi sent to jail for two weeks

Sindh IG Allah Dino Khwaja said the crackdown was aimed at both Sunni and Shia seminaries, after at least 10 people were killed in recent attacks.




Meanwhile, Sindh Rangers reportedly arrested Ahle-e-Sunnat-Wal-Jamaat (ASWJ) leader Taj Hanafi and shifted him to an undisclosed location. The paramilitary force also claimed to have recovered arms and ammunition from the leader's possession.

The ASWJ was officially banned as a terrorist organisation in 2012, but its workers continue to operate openly and leaders often hold public gatherings.

On Sunday, members of different Shia groups carried out a protest on Benazir Bhutto Road against the arrests of Allama Mirza Yousaf Hussain, chief of All-Pakistan Shia Action Committee (APSAC), and former Pakistan Peoples Party (PPP) Senator Faisal Raza Abidi in Karachi after about a dozen people were killed in the metropolis.

Shia groups protest arrests of leaders in Karachi

Speakers at the protest said that the government had been targeting them for their links with the Shia community and warned the government that if the arrested leaders were not released, they would continue protesting.

Violent crime has dropped significantly in Karachi since the launch of a paramilitary operation three years ago, but targeted attacks are still frequent.

Shia Muslims make up about 20 per cent of the country's 190 million people, and sectarian attacks against them have become increasingly common in recent years.

Since 2002, more than 2,500 Shias have been killed in such attacks, according to data gathered by the South Asia Terrorism Portal.