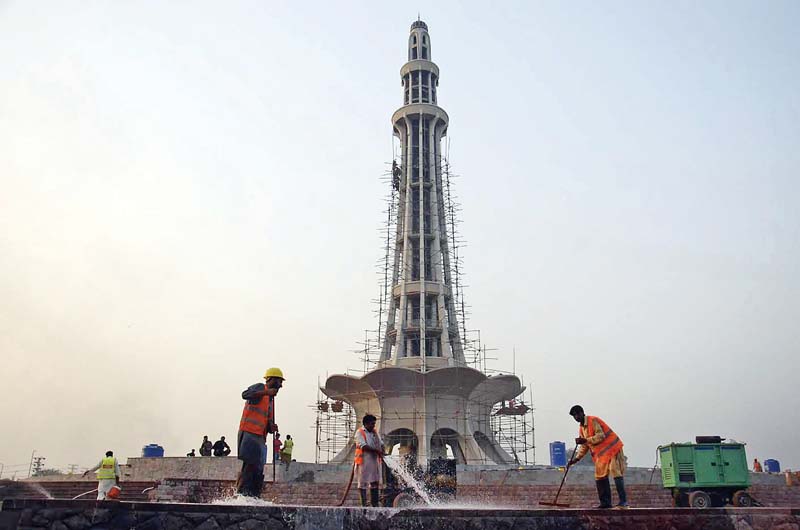 ---
LAHORE: A major overhaul of Minar-e-Pakistan is under way as part of the Greater Iqbal Park project.

Although several minor repair works on the monument have taken place in the past, work being carried out at present is the greatest effort to restore the original shape and colour of Minar-e-Pakistan. The incumbent government aims to replace the decades old elevator installed in the tower, while also polishing white marble of the structure, which had turned yellow over time.

While speaking to The Express Tribune, Habib Construction Services General Manager Mukhtar Nazir said artisans and labourers were working hard to restore the original glory of Minar-e-Pakistan.

"They are rebuffing the exterior of the tower, replacing broken marble tiles and installing new bricks around the tower's pedestal," he said. "Habib Construction Services [that has contract for the renovation] has set a target to complete the work before November 9 as the government is planning to partially inaugurate the Greater Iqbal Park on that day which is Allama Muhammad Iqbal's [the national poet and philosopher] birth anniversary."

Overlooking the city

The obelisk-like structure has a base that is about eight metres above the ground. The tower rises till about 62m on the base. The petal-shaped sides surround the tower.

The rostrum of Minar-e-Pakistan, which faces Badshahi Masjid, is built of patterned tiles. It faces the Badshahi Masjid.

The base of the tower has four platforms, symbolising beginning of the freedom struggle. The first platform is built with uncut stones from Taxila, the second is made of hammer-dressed stones, the third is made with chiselled stones while the polished service of the fourth platform depicts the success of the Pakistan Movement.

Minar-e-Pakistan was constructed over a period of eight years. It was built on the site where the Lahore Resolution was passed on March 23, 1940, to demand the creation of Pakistan.

It was designed by Russian-born Pakistani architect and civil engineer, Nasreddin Murat-Khan, who also designed Gaddafi Stadium in Lahore and several other notable buildings and structures in the country.

In recognition of Murat Khan's services, the then president of Pakistan, General Ayub Khan, conferred on him the medal of excellence, Tamgha-e-Imtiaz, in 1963.

Published in The Express Tribune, October 29th, 2016.