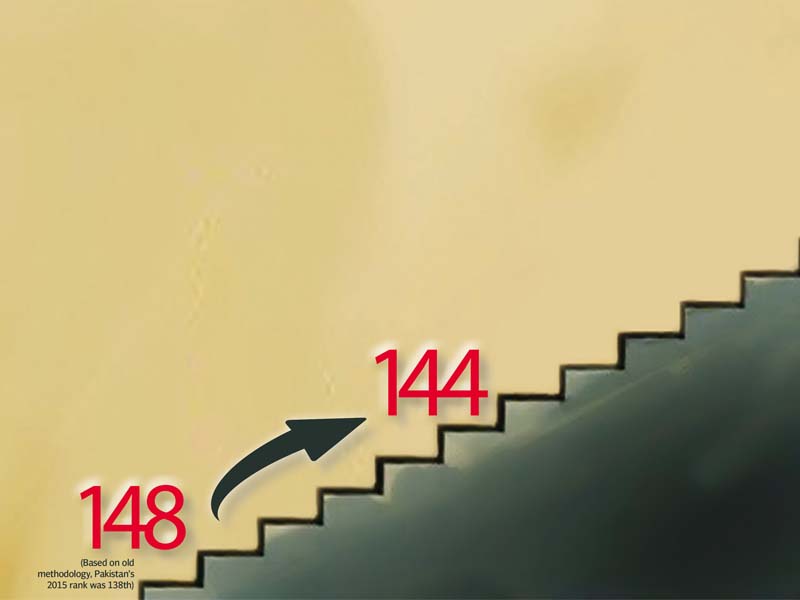 ---
ISLAMABAD: Pakistan's ranking has marginally improved to 144th on the World Bank's Ease of Doing Business Index after the Washington-based financial institution changed its methodology, but the country's performance further worsened on critical indicators of paying taxes and getting electricity.

The country was originally ranked 138th in 2015, but the World Bank changed its methodology for the second successive year and repositioned the 189 economies. Effectively, Pakistan was re-ranked at 148th for 2015, meaning the country moved up four places this year. But it witnessed an overall deterioration in the regulatory and enabling environment for starting and doing business.

Out of ten indicators, Pakistan's performance worsened on five, improved on three and remained the same on two. On the indicator of starting a business, Islamabad lost six ranks and slipped to 141.

The ranking is based on responses received from two cities - Lahore and Karachi.

The worst performance was on the indicator of getting electricity where it stood at 170 out of 190 nations - sliding seven notches compared to last year. The PML-N had won a landslide victory in the last general elections after it promised to bring an end to load shedding.

Electricity woes

"Doing Business data shows that Karachi and Lahore were among the cities that experienced the most outages globally in 2015," according the report the World Bank released Wednesday. It said that the World Bank Enterprise Survey data report showed that for 45% of enterprises in Pakistan, a lack of reliable electricity supply is the largest obstacle to the operation of their business.

It takes six months in getting electricity, according to the report.

The World Bank studied the cases of four low-income countries for the report and found that Pakistan and Cameron are examples of economies where outages occur on a regular basis and electricity supply remains unreliable.

The unreliability of the electricity sector in Pakistan may also be attributed to the state of utility financial and operational performance, it added. According to Doing Business data, it takes well over 100 days for a business to connect to electricity in Lahore and Karachi and a new connection costs about 1,770% of the national income per capita, a cost that is among the highest in South Asia.

Countries like Bhutan claimed South Asia's highest spot in the ease of doing business ranking at 73, followed by Nepal (107th) and Sri Lanka (110th). India stood at 130th, followed by Maldives 135, Pakistan, Bangladesh (176th) and Afghanistan (183rd).

In Cameroon and Pakistan, transmission and distribution losses stand at approximately 30%, compared to 10% or less in Guatemala and Indonesia, according to the World Bank. Commercial losses are caused by non-payment due to theft, non-registered consumption or improper metering, according to the report.

The World Bank admitted that liberalisation was less of a success in Pakistan where some factors-such as sustainable tariff pricing, sound financial management, high operational performance and balanced energy mix-were partly neglected in the past.

"Pakistan is in the midst of an energy crisis," according to the report. It said almost all power distribution companies are facing challenges of shortfall in electricity supply, chronic transmission and distribution losses and insufficient exploitation of existing capacity.

Tax issues

On the indicator of paying taxes, Pakistan slipped two notches and stood at 155th position this year. The report states that businesses are making 47 kinds of tax payments while it takes them 311.5 hours a year to pay their taxes.

IMF Managing Director Christine Lagarde said on Monday that the time Pakistani businesspersons are consuming in sorting out their tax forms can be used to find new business opportunities.

On the indicator of trading across border, Pakistan's positioned remained same at 172. On the index of dealing with construction permits, the position also remained unchanged at 150. It also lost ranking on protecting minority contracts and slipped to 27. On enforcing contracts, the country stood at 157 - one notch below last year level.

Islamabad showed improvement on getting credit by improving 52 positions to 82 and registering property to 169.

It witnessed improvement mainly in three areas: registering property, getting credit and trade across borders. Pakistan improved the quality of land administration by digitising ownership and land records. It improved access to credit information guaranteeing by law borrowers' rights to inspect their own data. Pakistan made exporting and importing easier by enhancing its electronic customs platform. This reform applies to both Lahore and Karachi.

Published in The Express Tribune, October 27th, 2016.

Like Business on Facebook, follow @TribuneBiz on Twitter to stay informed and join in the conversation.