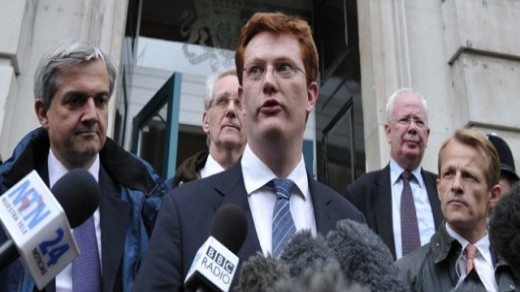 ---
LONDON: Britain's main opposition parties came under growing pressure on Monday to agree a power sharing deal, four days after a general election left the country politically deadlocked.

The centre-right Conservatives led by David Cameron and Nick Clegg's centrist Liberal Democrats, holding a third day of talks, described weekend negotiations as "very positive".

But they are facing growing calls from Prime Minister Gordon Brown's Labour, which is still running the country, either to announce a deal or admit they have failed -- a move which would allow Labour to talk to the Lib Dems.

There are suggestions that Brown, whose party dropped to second place behind the Tories in Thursday's general election, could stand aside to make any talks between Labour and the Lib Dems easier.

Labour Finance Minister Alistair Darling said he hoped the Conservatives and Lib Dems could strike an accord within hours in order to reassure the financial markets and the country as a whole. "I don't think it will do any good to let this process drag on," he told BBC radio. "I hope by the end of today they can decide whether they can do a deal or not."

London's FTSE 100 opened up nearly three percent on Monday, confounding fears it would dip on the uncertainty over Britain's government, after being boosted by EU nations agreeing a huge rescue package for eurozone countries.

When asked whether Brown should indicate that he intended to stand down in order to boost Labour's potential negotiating position with the Lib Dems, Darling was non-committal.

"I'm not going to decide in advance what may or may not be the case in any discussions we have with them," he said.

Thursday's general election delivered a hung parliament -- where no one party has overall control -- for the first time since 1974.

The Conservatives won the most seats and pushed the ruling Labour party into second. But under Britain's first-past-the-post voting system, it was not enough to for them to govern alone and they are trying to win the extra support needed to rule by working with the Lib Dems, who came in third.

The main talks on power-sharing are being conducted by a team of negotiators and were due to resume at 10:00 am (0900 GMT), while a series of other meetings involving the parties were scheduled throughout the day.

Tory negotiator William Hague, who is also the party's foreign affairs spokesman, hailed five hours of talks Sunday as "very positive and productive".

Cameron met Clegg Sunday in their second set of face-to-face talks in 24 hours, a further sign the two sides could be inching towards a deal. Brown also met Clegg, in a meeting described by sources as "amicable".

One of the key stumbling blocks the Tories and Lib Dems face is reaching agreement on reforming the voting system. This is one of the Lib Dems' key policies but is opposed by the Conservatives.

Conservative former prime minister John Major warned on BBC radio that "to suddenly draw up plans on the back of an envelope" on electoral reform during the talks would likely lead to the wrong decision.

"There is a crisis and we need to work in the national interest in order to try and resolve that," Major said.

Clegg has hinted he may compromise on electoral reform but the goal is cherished by many Lib Dem activists. Any alliance involving the Lib Dems which threatens their "independence of political action" has to be approved by the party's lawmakers, the ruling executive and potentially their full membership in a complex system known as the "triple lock".

If a deal cannot be done with the Lib Dems, Cameron could try to rule as leader of a minority Conservative government, relying on ad hoc support from smaller parties.
COMMENTS
Comments are moderated and generally will be posted if they are on-topic and not abusive.
For more information, please see our Comments FAQ