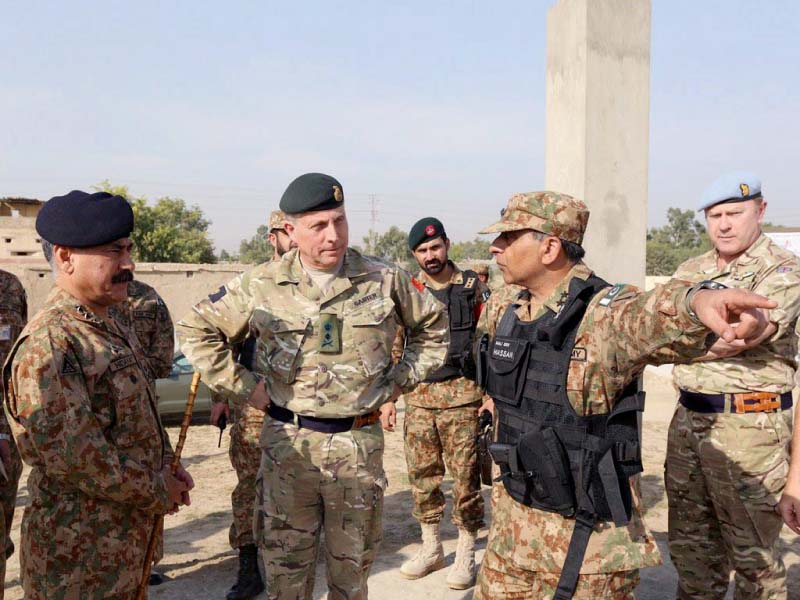 ---
ISLAMABAD: At a time when India is desperately trying to discredit Pakistan's counterterrorism gains, Britain's top military commander travelled to North Waziristan Agency on Wednesday where he praised the Pakistan Army for cleansing the once terrorist-infested tribal region.

"I think it is to the huge credit of the Pakistan Army that you have managed to clear and [are] so far holding this area," said General Sir Nicholas Patrick Carter, Chief of General Staff of the UK Army, during an unprecedented visit by the military chief of a key western country.

Erdogan praises Pakistan Army's contributions for regional peace, stability

"It is a great privilege for me as the head of the British army to come to Miramshah, the administrative headquarters of North Waziristan. I've heard so much about this place and I've heard so much about what the Pakistan Army has been doing in this part of the world," Gen Carter said.

He added that since he had spent a lot of his time in Afghanistan, he did understand the nature of the task and the problem of the common threat of terrorism. "It is really inspiring how the Pakistan Army is consolidating its gains and bringing peace to this part of the region," he added.

He also appreciated the way the Pakistan Army had been working for the repatriation of the temporarily displaced persons (TDPs) besides undertaking development projects. "I am looking forward to return of the population," he added.

Homegrown militants and their foreign cohorts virtually held sway over North Waziristan until mid-June 2014 when the military mounted a massive operation, codenamed Zarb-e-Azb, to drive them out of their stronghold.

Malaysian military chiefs praise Pak Army's achievements against terrorism

The region has since been purged of terrorists, but the operation has been expanded to dismantle the sleeper cells of terrorists in the country's urban centres.

According to the military's media wing, the formation commander briefed the British military chief about the prevailing environment in the region, return of the TDPs and development projects undertaken by the army.

Tens of thousands of tribesmen had been evacuated from North Waziristan before troops moved in to drive out terrorists.

Earlier, Gen Carter called on Chief of Army Staff General Raheel Sharif at the GHQ in Rawalpindi, the Inter-Services Public Relations, said in a statement.

Regional security issues and matters of mutual interest were discussed in the meeting. The visiting British general acknowledged the sacrifices and achievements of the Pakistan Army in the fight against terrorism and efforts for bringing peace and stability in the region.

Gen Carter laid a floral wreath at Yadgar-e-Shuhada (monument of the martyrs). A smartly turned out contingent of the Pakistan Army presented the guard of honour to the visiting general, the ISPR said.

Published in The Express Tribune, October 20th, 2016.
COMMENTS (4)
Comments are moderated and generally will be posted if they are on-topic and not abusive.
For more information, please see our Comments FAQ