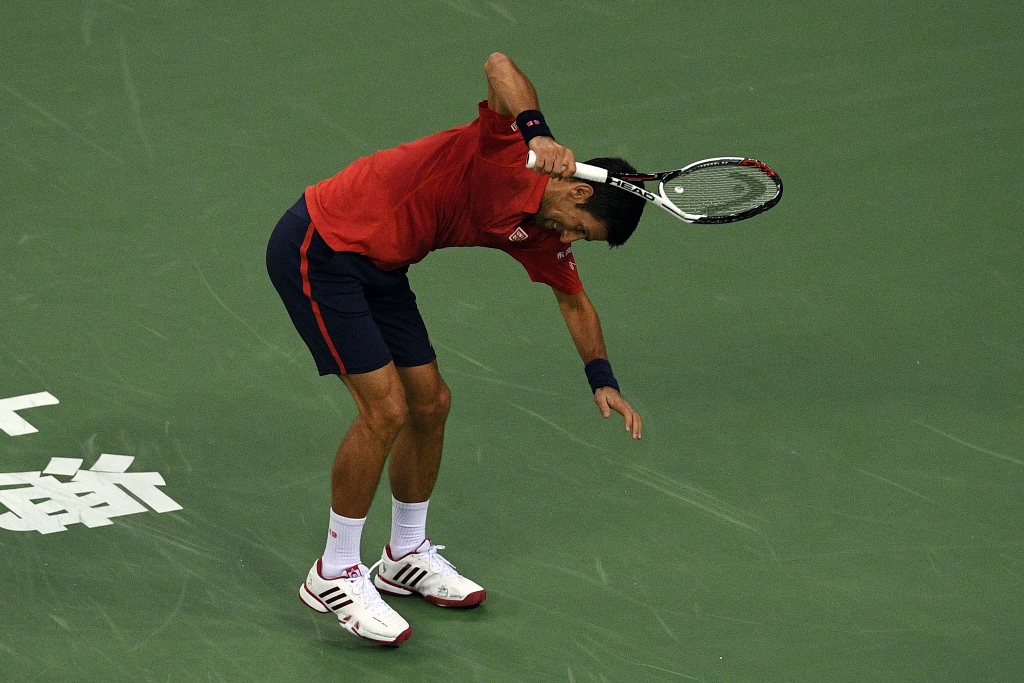 ---
SHANGHAI: Novak Djokovic smashed his racquet, angrily tore his shirt and raged at the chair umpire as he was stunned in the Shanghai Masters semi-finals by Roberto Bautista on Saturday.

The defending champion and 12-time Grand Slam winner was broken once in the first set and three times in the second as he lost 6-4, 6-4 in his first defeat to the Spaniard.

The world number one has been out of sorts since he won his first French Open title in June, losing early at Wimbledon and the Olympics and complaining he had lost motivation.

Djokovic survives mighty scare

The 29-year-old Serb, whose top ranking is under threat from Andy Murray, hummed to keep up his spirits during his quarter-final escape against German qualifier Mischa Zverev.

But the three-time champion failed to keep his cool in a stormy appearance at Shanghai's Qi Zhong Tennis Centre as his nosedive in form continued.




Djokovic later admitted he "didn't feel good" mentally, and it showed as he continued his tirade at Brazilian chair umpire Carlos Bernardes.

"I just don't understand, you know, the decisions that he has made," Djokovic grumbled to media. "When you go to change your racquet, I went to change my (ripped) shirt and then he gives me a warning. Well, he was the star of the show. That's what he wanted to be today."

Nineteenth-ranked Bautista put away two brilliant forehands as he fought off break points in the ninth game, and he then pounced as Djokovic was serving to stay in the first set.

Murray targets 'strong' year-end to topple Djokovic

A sublime disguised lob set up break point and when Djokovic fired wide to hand over the set, he snapped and repeatedly slammed his racquet into the deck.

Djokovic grabbed a towel and cleaned up his racquet splinters as the second set got underway, but tempers frayed again at 1-1 over a serve he felt was long.

"Are you seeing anything today? Are you seeing anything?" fumed the Serb, gesticulating at Bernardes.




Then Djokovic, angry at failing to secure a break point in game five, theatrically tore his shirt at the neck and went to change it mid-game, receiving a time violation warning.

They exchanged breaks before Djokovic was broken again to be left staring at defeat -- only to save three match points before getting it back on serve in a tense game nine.

But a forehand into the net brought up a fourth match point on his own serve, and this time Bautista grabbed the opportunity as he arrowed a pass down the line.

Murray claims China Open title

"I'm so happy," said Bautista, who had lost all five previous matches against Djokovic and is now in his first Masters final. "I'm just so happy how I've played this week. I'm feeling really good on this court and I hope to enjoy it until the last point here."

Murray, the world number two, and Gilles Simon play later to decide who will meet Bautista in Sunday's final.

Djokovic was seeking his 11th title in China -- where he has never lost a final -- after winning three Shanghai Masters, six China Opens and the 2008 Tennis Masters Cup.
COMMENTS
Comments are moderated and generally will be posted if they are on-topic and not abusive.
For more information, please see our Comments FAQ