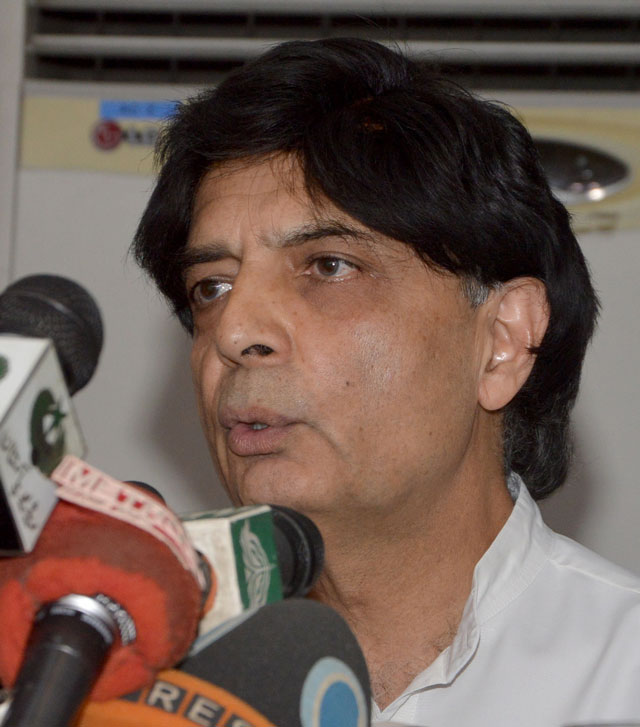 ---
Two days after Cyril Almeida's name was put on Exit Control List (ECL), Interior Minister Chaudhry Nisar has said the senior journalist was put on the no-fly list as he was planning to leave the country while an inquiry had been ordered to investigate his news story.

The Dawn's staffer's story, "Act against militants or face international isolation, civilians tell military" described what transpired in a high-level meeting in which the civil leadership allegedly criticised the military's policies on militancy.

"Everything [regarding the Cyril's case] should come to the fore… and I don't have any reservations to it," Nisar said, while responding to a journalist's question during a presser in Islamabad. "I have invited the representatives of the CPNE and APNS to Islamabad and will talk at length on this issue with them."

Editorial: Government's ECL blunder

Nisar said the decision to put Cyril's name on ECL was taken during a high-level security meeting. "It was decided that this was an attempt to hit our security paradigm in reference to a sensitive security meeting. There should be an investigation into the incident," he upheld.

The country's security czar lamented that the narrative of Pakistan enemies regarding the non-state actors was published in the article "despite all the participants of the meeting denied any such happenings".

Govt dismisses 'fabricated' report, reaffirms army's lead role in fight against terrorism

"When the journalist himself admitted in his report that all the [civilian] participants of the meeting denied the happenings how come the story was still published," he questioned.

Claiming the news story was inaccurate, the minister said whoever leaked the information should be held accountable. "The journalist's name was only put on ECL for inquiry and I am sure he won't face any issues."

I agree with the APNS that the issue should have ended with the publication of government's rebuttal but the journalist again tweeted and said "I stand by each word of my story".