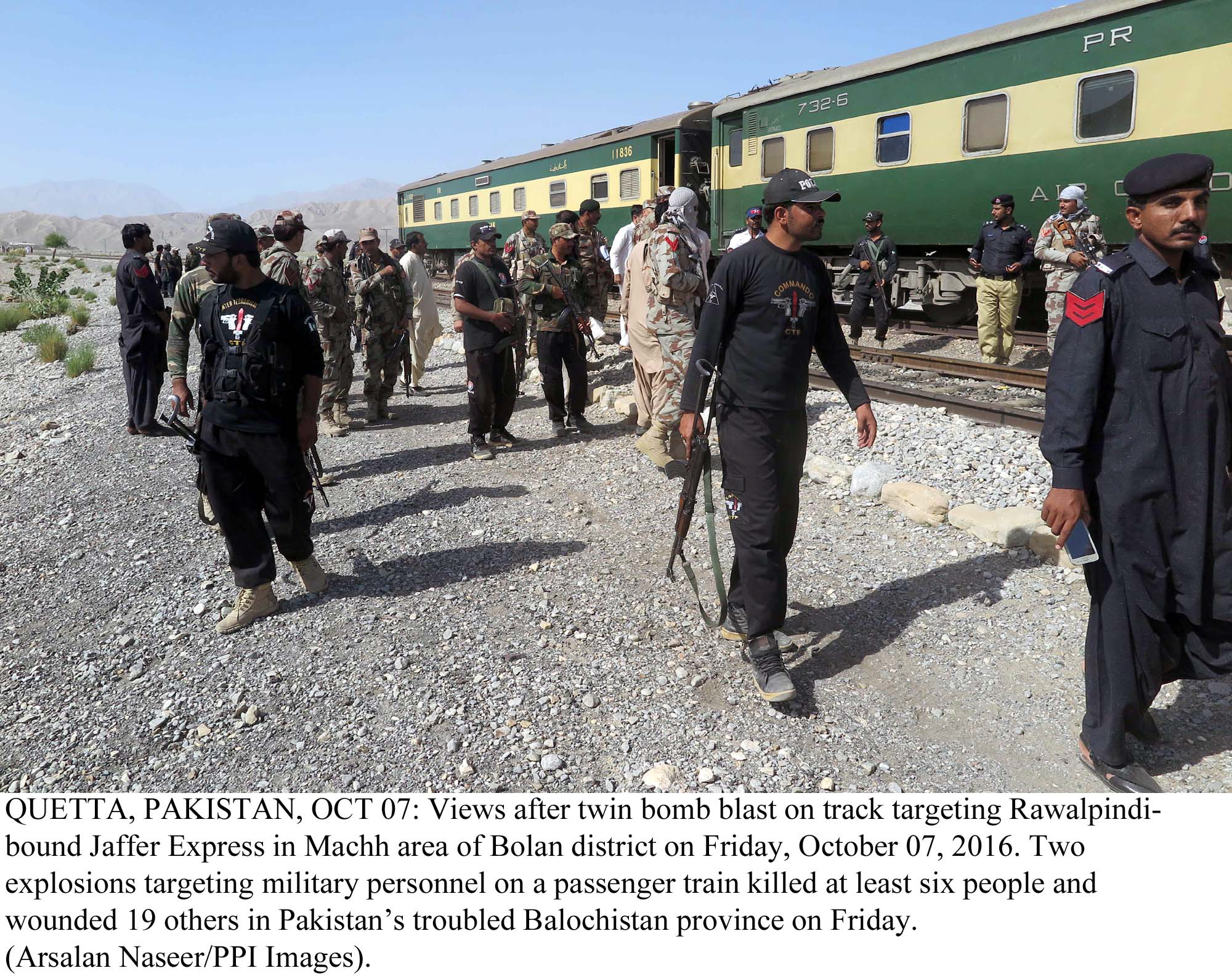 ---
QUETTA: A day after two bombs tore through a passenger train in Balochistan, a top police official, while training his gun at 'external enemies' as well as the 'enemy inside' said the province was reeling under terrorism which was unfolding at twice the rate of other provinces.

The latest attack left seven people dead and 19 others wounded as the Rawalpindi-bound Jaffar Express passed near the town of Mach, about 65km southeast of Quetta. The attack was claimed by the proscribed Baloch Liberation Army (BLA).

Provincial inspector general of police, Ahsan Mehboob, however, assured that an effective strategy has been evolved to fight terrorism "in all its forms and manifestations".




He was speaking to the media after attending a meeting with Ulema in the Commissioner Office in Dera Murad Jamali in connection with the security arrangements for Muharram

"Pakistan, especially Balochistan, has been suffered greatly due to terrorism in the name of religion and sub-nationalism.

"Foreign hands are involved in the on-going terror acts in Balochistan as the enemy does not want religious harmony and is trying to divide people on sectarian and nationalistic lines," said the inspector general of police.

He said it is the responsibility of Ulema, intellectuals and all peace-loving people to come forward and play their role in removing religious hatred from society, especially on the eve of Ashura.

The IGP said the provincial government was taking all possible steps to restore peace and order in the province.

Police in Mach lodged a first information report against unidentified militants who carried out Friday's twin bombing on Jaffar Express. "The First Information Report was lodged against unknown persons on behalf of the Railway Administration in the Mach Police Station on Saturday," Divisional Superintendent (DS) Railway Hanif Gul said.

"The explosive devices were placed right underneath the railway track. It was a planned attack," Gul said.

Talking about the immediate security measures taken by Pakistan Railways to secure the track, Gul said, "We have beefed up security across the division. We have full support of the Pakistan Army and Frontier Corps."

He added, "The railway section between Mach and Jacobabad is marked as sensitive, but efforts are underway to modernise our security arrangement through-out the division."

After the twin bombing Pakistan Railway has toughened security and deployed more Railway and FC personnel while Punjab-bound trains have started operating between the two provinces

"Here in the Quetta station, they were providing better security but they should enhance security on the sensitive Bolan track," said Taj Muhammad, a passenger travelling to Lahore.

"Train is the only source of travel for poor passengers, and whether or not threats exist we have no other option but to travel in trains."

Published in The Express Tribune, October 9th, 2016.