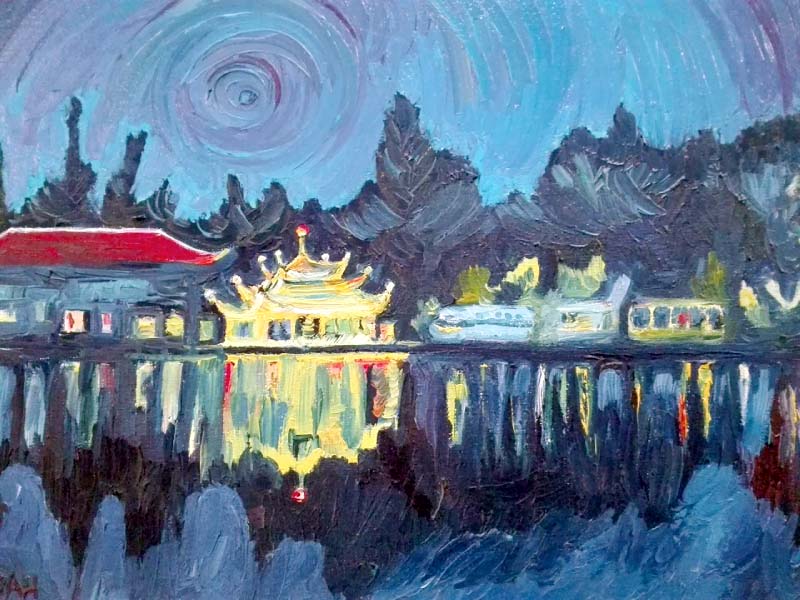 ---
LAHORE: Young artists are seldom given a chance to exhibit their work. But at Alhamra Art Gallery, 11 students of Punjab University and National College of Arts showcased their paintings with a group exhibition titled 'Episode 12' on Monday.

Alhamra Arts Council Deputy Director Zulfiqar Ali Zulfi said a particularly refreshing aspect of the exhibition was that it featured work by young and amateur students who had just begun learning the art professionally. "But there is no doubt that their approach and their skills are of very high quality," Zulfiqar said while speaking to The Express Tribune.

"I'm glad these students have self-curated the show, which in itself is a difficult job to do even for highly professional individuals," he said.

He believed the exhibition was a peek into the potential and vision of the talented students and he would look forward to seeing great work from them in the future.




One of the artists Saeeda Iffat irfan exhibited her artwork in medium acrylic and gold featuring verses in a mix of Khat-e-kufi and Deewani.

While Adnan Akram displayed six paintings that featured calligraphy and rumination, the paintings were created using medium gauche and gold-silver paint. Adnan said the colour combinations in his work were inspired by nature. The artist said some of his pieces also featured work created using marbling technique.

Miniature artist Tanzila Khan said her pieces were replicas of famous miniature paintings in medium gouache. "While for the rest, I have taken inspiration from songs and the concept of dreams," she said.

Another artist Verdah Javed said her heavy layered oil paintings were an inspiration from Vincent Van Gogh featuring scenic locations of northern Pakistan. She took to painting sceneries in a typical Van Gogh's style, portraying memories from her visit to the Gilgit region recently.

Published in The Express Tribune, October 4th, 2016.