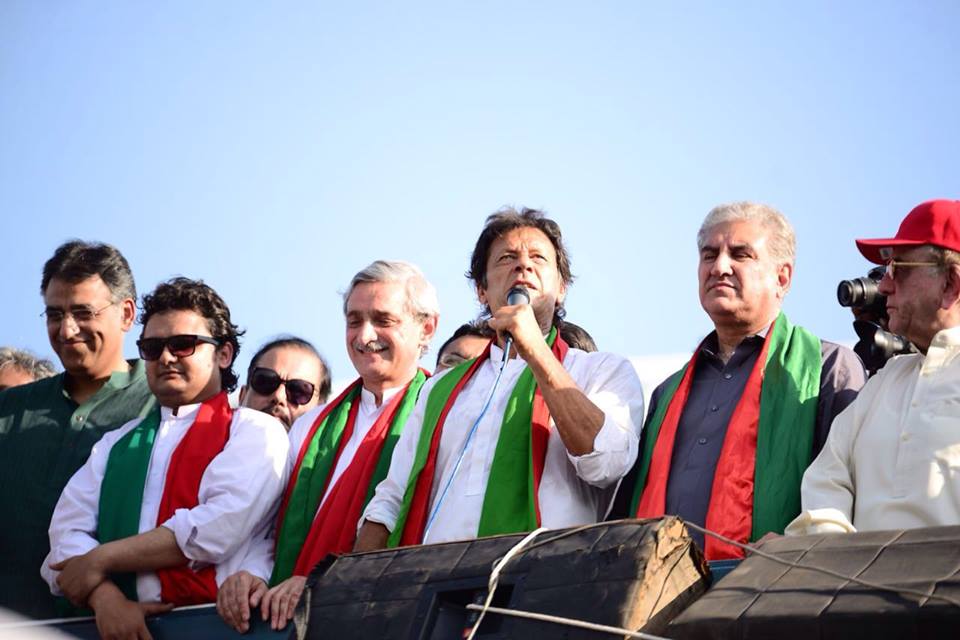 ---
KARACHI: Pakistani political parties may differ on a lot of issues, but when it comes to dealing with a bellicose India, they are willing to bury their differences and put up a united front. This is what Imran Khan says his party will do. The Pakistan Tehreek-e-Insaf chairman, who is scheduled to lead  a protest in the residential estate of the ruling Sharif family, said his party might reconsider the timing of the much-trumpeted Raiwind march, if tensions between Pakistan and India boiled over, though he doesn't see that happening.

"We will stand by our armed forces and the nation, if tensions with India escalate," Imran said during an interaction with senior journalists at a hotel in Karachi. In the same vein, however, he said he didn't think India could go beyond sabre-rattling. He was asked if his party would reconsider the date of the Raiwind march, if ongoing tensions with archrival turn into a military showdown.

Did Ahsan Iqbal take a swipe at Imran Khan with post on cocaine?

Imran said India was using last Sunday's Uri attack to shift international spotlight away from its flagrant rights abuses in the disputed Kashmir state. He was particularly critical of the jingoist Indian media which, he said, was stirring up war hysteria in the region with its irresponsible reporting and skewed analyses.

The PTI is scheduled to lead a march to Raiwind, where the residences of the Sharif family are located, to press the PML-N government to order an independent inquiry into the Panamagate scandal. "It will be a historic march. We are expecting a huge turnout on September 30," Khan said, but he would not say if they would stage a dharna or wind up the protest that day.

What if the Raiwind protest fails to bring the government on its knees? "I'll announce the next step on Friday," Imran said. When repeatedly pressed for specifics, he laughingly said, "I myself don't know what I'll announce that day."

PML-N workers have raised a force, called Janesaraan-e-Nawaz Sharif, to deter PTI supporters from marching to Raiwind. Footages of baton-wielding members of the force were aired on some private television channels. "It's our constitutional right to protest," Khan said, citing at least three articles of the 1973 Constitution. "We will remain peaceful, but if the dandabardar (baton-totting) force tries to mess up with our workers, then they will retaliate."

Imran said the Supreme Court and the Election Commission of Pakistan would be taking up two cases next week and the Raiwind march would send a message to the two institutions that people wanted accountability of the Sharif family for looting nation's wealth.

Raiwind rally: No talk of conflict as PTI readies for march

Reiterating what he has said umpteen times, Khan said his party had exhausted all options. "When state institutions are reluctant to hold an inquiry into the Panama Papers, then what option do we have except for staging street protests?" he said while posing a cross question to the audience. "I hope our street protests would put pressure on the state institutions to hold an inquiry into the mega tax evasion scandal.

In its Sept 21 meeting of the Public Accounts Committee, heads of key state institutions, like FBR, SECP, SBP, NAB and FIA, reportedly expressed their helplessness to investigate the Panamagate. "They are telling lie. Dr Arif Alvi told them that they have a mandate to hold an inquiry into the scam," Khan said pointing to his party colleague who was sitting next to him.

Wouldn't street agitation lead to derailment of democracy in the country? "I'm not asking for winding up the government. I'm just calling for the accountability of [Prime Minister] Nawaz Sharif," Khan said. "He is the biggest thief. If we don't hold him accountable, then we cannot hold anyone."

He sought to quash the impression that he wanted to come to power by any means. "I'm not power-hungry. In the 1988, I was offered by the then military ruler, Gen Ziaul Haq, to become a member of parliament. Similar offers were made in 1993 and 1997," he said and recalled how he turned down an offer from Gen (retd) Pervez Musharraf in 2008.

He said his reference to 'third umpire' was misconstrued by many as an allusion to the military. "My umpire is no one but Allah Almighty," Khan said. "Panama expose is a Godsend, which is why I hope this time the umpire will give the verdict against the Sharif family."

With reference to Karachi, the PTI chairman said the megacity generated 70% of the country's revenue. "And this money is embezzled by the ruling clique," he said. "Karachi would have been at par with, if not ahead of Dubai, had its security situation been better. He welcome the MQM-Pakistan decision to disown its founder Altaf Hussain whom he called a 'known terrorist'.

Later, the PTI chairman also addressed a workers' convention at the Insaf House in Karachi. "These are defining moments for Pakistan. If we succeed in our mission, then we will be able to materiliase the dream of Naya Pakistan," he said and exhorted his supporters to participate in the ongoing movement against corruption in great numbers to contribute their bit in the making of Naya Pakistan.

Published in The Express Tribune, September 25th, 2016.
COMMENTS (2)
Comments are moderated and generally will be posted if they are on-topic and not abusive.
For more information, please see our Comments FAQ