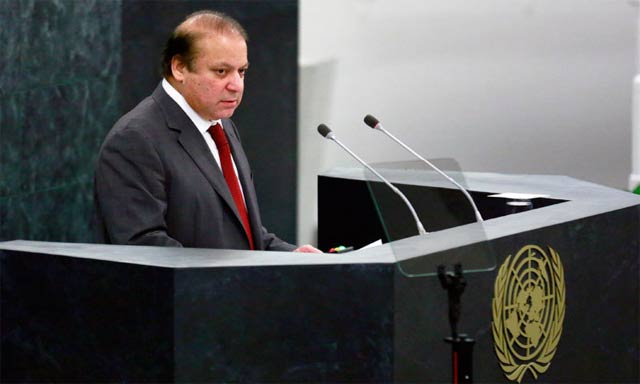 ---
UNITED NATIONS: Prime Minister Nawaz Sharif demanded on Wednesday an independent inquiry and a UN fact-finding mission to investigate extra-judicial killings and brutalities perpetrated by security forces in Indian occupied Kashmir (IOK) to punish those found guilty.

"I demand an independent inquiry into the extra-judicial killings, and a UN fact-finding mission to investigate brutalities perpetrated by the Indian occupying forces, so that those guilty of these atrocities are punished," Sharif said in his speech at the UN General Assembly.

PM Nawaz, Kerry discuss regional, international issues

Around 100 people have been killed and thousands injured in violent protests triggered by the killing of a young popular freedom fighter Burhan Wani by Indian security forces in the disputed Himalayan valley on July 8.

Highlighting the gross human rights violations in the IOK, Sharif said, "We demand immediate release of all Kashmiri political prisoners; an end to the curfew; freedom for the Kashmiris to demonstrate peacefully; urgent medical help for the injured; and abrogation of India's draconian laws."

These Indian brutalities, he said, were well documented. "I would like to inform the General Assembly that Pakistan will share with the secretary general a dossier containing detailed information and evidence of gross and systematic violations of human rights committed by Indian forces."

Apparently referring to the spike of tensions between Pakistan and India following a recent attack on Indian troops in the Uri sector of IOK, Premier Sharif warned the international community against ignoring the dangers of Indo-Pakistan tensions.

He said Pakistan will soon open consultations with the members of 15-nation council to explore modalities for implementation of the Security Council resolutions on Kashmir.

No peace without resolution of Kashmir issue: PM

In his wide-ranging address, the prime minister also spoke about Pakistan's commitment to eliminating terrorism, Afghan peace process, Palestinian people's right to self-determination, disarmament, but he kept his focus on the situation in Kashmir.

"The Security Council must honour its commitments by implementing its own decisions. This General Assembly must demand that India deliver on the commitments its leaders solemnly made on many occasions," he said, while welcoming UN Secretary-General Ban Ki-moon's offer of good offices to help resolve outstanding issues between India and Pakistan.

Sharif called for steps by the United Nations to demilitarise Jammu and Kashmir and undertake consultations with India, Pakistan and the true representatives of the Kashmiri people to implement the resolutions of the Security Council.

"Peace and normalisation between Pakistan and India cannot be achieved without a resolution of the Kashmir dispute," he told world leaders present in the spacious hall of the General Assembly. "This is an objective evaluation, not a partisan position."

"Our predictions have now been confirmed by events. A new generation of Kashmiris has risen spontaneously against India's illegal occupation - demanding freedom from occupation.

"Burhan Wani, the young leader murdered by Indian forces, has emerged as the symbol of the latest Kashmiri 'Intifada', a popular and peaceful freedom movement, led by Kashmiris, young and old, men  and women, armed only with an undying faith in the legitimacy of their cause, and a hunger for freedom in their hearts."

Premier Sharif told world leaders that Pakistan for its part was committed to the establishment of strategic stability in the region and does not want an arms race with India. "But we cannot ignore our neighbour's unprecedented arms buildup and will take whatever measures are necessary to maintain credible deterrence." "We have consistently urged the conclusion of bilateral arms control and disarmament measures between Pakistan and India to prevent conflict and avoid wasteful military expenditures," he added. "We are open to discussing all measures of restraint and responsibility with India, in any forum or format and without any condition."

Expressing Pakistan's readiness to agree on a bilateral nuclear test ban treaty, he went on to say, "Today, from this rostrum, I would also like to reiterate our offer to India to enter into a serious and sustained dialogue for the peaceful resolution of all outstanding disputes, especially Jammu and Kashmir."

As a responsible nuclear weapon state, he said, Pakistan will continue to cooperate with all international efforts that seek to promote fair and equitable solutions to disarmament and non-proliferation challenges.

"We have introduced 'state-of-the-art' measures to strengthen the safety and security of our nuclear materials and facilities. We have adopted a comprehensive export control regime that is fully consistent with international standards," the prime minister said.

"Judged on the basis of objective criteria, and without discrimination, Pakistan is fully eligible for membership of the Nuclear Suppliers' Group."

On terrorism, the prime minister said Pakistan's priority goal of economic development requires internal peace and stability. "My country has been the principal victim of terrorism including that supported, sponsored and financed from abroad," he told the 193-member Assembly.

"We will not allow externally sponsored terrorism and threats of destabilisation to cause turbulence in Pakistan," pointing out that tens of thousands of our citizens and thousands of security personnel have been killed, or injured in terrorist attacks.

"This has only reinforced our resolve to eliminate the scourge of terrorism. Our comprehensive strategy of law enforcement and targeted military operations has produced remarkable results and enabled Pakistan to turn the tide against terrorism," he said.

Indian military asks govt to consider 'punitive' cross-border strikes

Terrorism, he said, is now a global phenomenon, and the international community must coordinate its efforts to accomplish this. These efforts should be taken collectively and not unilaterally by the passage of any laws with extra-territorial application targeted against certain countries.

"We will not win the fight against terrorism and violent extremism so long as we do not address their root causes," he said. "These lie in poverty and ignorance, political and social injustice and oppression, foreign intervention and occupation and denial of the legitimate rights of peoples and nations, especially the right to self-determination."

On Afghanistan, Prime Minister Nawaz said Pakistan has long proposed intra-Afghan dialogue as the most viable course to end decades of conflict and suffering in Afghanistan.

Published in The Express Tribune, September 22nd, 2016.