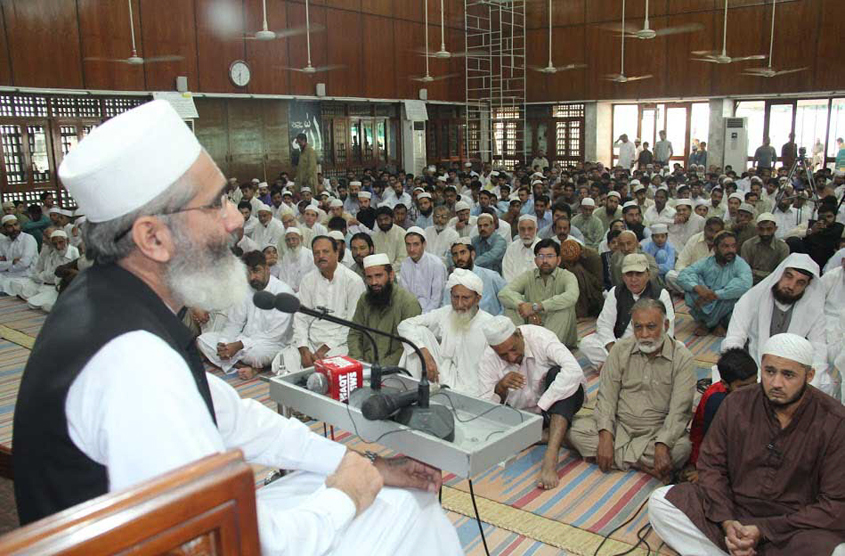 ---
LAHORE: "Development and prosperity of a society should be measured by education and health statistics, not roads and bridges," said Jamaat-i-Islami chief Sirajul Haq on Thursday.

Haq said the prime minister and the Punjab chief minister often made great claims about progress. "Their lies are exposed when one looks at the state of the health sector."

"Only a healthy nation can march on the path of progress and prosperity our rulers talk about," he said. "Citizens will not prosper until our rulers stop acting as if Lahore is the heart of Pakistan."

Haq expressed these views during a visit to Jinnah Hospital. Deputy Medical Superintendent Waheed Imran took the JI chief to various wards and sections of the hospital. The JI chief also gave away gifts to the patients.

Talking to newsmen on the occasion, Haq said organising public meetings and processions was a democratic right of political workers. "It would be good for the government to set up a judicial commission for enquiry into the allegations against the prime minister brought since the Panama Leaks."

He said a meeting of the JI central committee would be held in the city on September 23 to review the party's drive against corruption and strategy for the future.

"Islam is the only hope for humanity. Muslims across the world should unite and prepare a common strategy for liberation of their occupied areas," he said.

"Many dictators have perished in the course of history. Man-made systems like socialism, communism and secularism have only misled people."

The JI chief said that Muslim rulers had forgotten about past glories of the ummah.

"They are trying to copy the West in every sphere," he said.

The rulers had adopted interest-based economic systems emulating the West which had led millions into poverty.

"Pakistan's economy can only be stabilised by adopting Islamic principles," he said.

He urged Muslim rulers to raise their voices against executions of JI leaders in Bangladesh.

"They are being punished for their love for Islam and Pakistan," he said.

"Laity and the rulers should enjoy similar rights," he said. He said the JI was striving for a system in which the common man had access to justice and enjoyed basic health, education and housing facilities.

Published in The Express Tribune, September 16th, 2016.
COMMENTS
Comments are moderated and generally will be posted if they are on-topic and not abusive.
For more information, please see our Comments FAQ