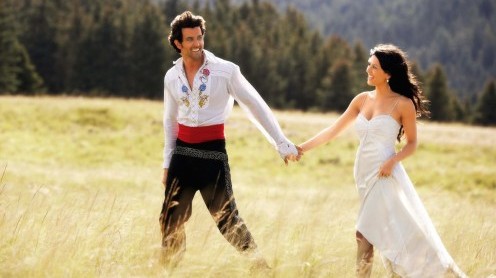 ---
KARACHI: A new Bollywood film co-starring a Mexican actor has raised hopes that Indian cinema can make inroads into the Spanishspeaking market, after boosting its profile elsewhere in the world.

Leading lady Barbara Mori appears with heartthrob actor Hrithik Roshan in Kites, a romantic drama about a fugitive left for dead in the Mexican desert, who meets the love of his life and goes on the run across the United States. Roshan's father, Rakesh (who produced the movie) said, "There are a lot of inquiries from the Spanish-speaking market and we would love to release Kites in as many countries as possible.

The world has become small due to globalisation and today films from South Korea and other Asian countries do make an impact in mainstream Hollywood and other markets. But unfortunately Indian films have not been able to do that. I want to show the world that Indian films can make an impact too."

Reliance Pictures is hoping that Kites will be an international box-office success and crack the Western market. Kites is to have the widest ever release of any Indian Bollywood production and is set to open simultaneously in 60 countries including India, Pakistan, US and Canada on May 21. The CEO of Reliance Pictures, Sanjeev Lamba has said that a total of 2,300 prints will be released worldwide with 250 prints showing in the US and a 100 in the UK. The film has been made in three languages; Hindi, English and Spanish and has three separate versions.

The 2 hour 10 minute Hindi version and 90 minute English version will release in May while the Spanish version of the film is scheduled to release a little later. The overseas success of this year's Shah Rukh Khan blockbuster My Name Is Khan has left Hindi-language filmmakers eager to tap into overseas markets with similar "crossover" films.

The film made $39 million worldwide in the month after its release in February, including $17 million outside India. That came after the 2009 Oscar-winning Slumdog Millionaire which although British-made, boosted worldwide interest in using Indian film industry talent. The overseas market makes up seven per cent of overall revenues in India's $1.9 billion film industry, with foreign audiences prized because of the higher cost of cinema tickets compared with those in India.

Kites director Anurag Basu told reporters recently that Indian cinema should have a higher profile abroad. "I feel very sad that the world knows only filmmakers like Mira Nair and Deepa Mehta," he said. "They don't know about Indian films and I feel Kites will be that film that will appeal to masses of Western and Spanish-speaking countries," he added.

Mori believes, "Our attempt with this film was to make an emotional appealing love story though the two protagonists don't know each other's language. The emotions appeal to human beings all over the world and therefore I felt this film can work on an international scale."

WITH ADDITIONAL INFORMATION BY THE NEWS DESK

Published in The Express  Tribune, May 10, 2010.
COMMENTS
Comments are moderated and generally will be posted if they are on-topic and not abusive.
For more information, please see our Comments FAQ