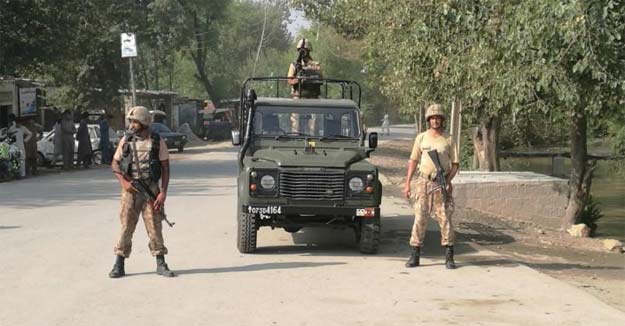 ---
The Pakistani Taliban faction Jamaat-ur-Ahrar on Friday claimed responsibility for a suicide attack on Christian neighbourhood near Warsak Dam on the outskirts of Peshawar where at least one security guard was killed.


Authorities "promptly responded" and all four suicide bombers are dead, army spokesman Lt General Asim Bajwa said in a message on Twitter. In a separate statement, the military's information wing said one security guard of the Christian residential area was killed at the start of the attack, at 5:30 am.


The attackers, wearing suicide vests and carrying firearms, exchanged fire with security forces backed by army helicopters and were killed, the statement said. Two soldiers, a policeman and two civilian security guards were wounded, it added.

At least 12 killed, 52 wounded in suicide blast at Mardan district courts

The official said the attackers might have been attempting to enter an adjacent security installation, by exploiting weaker security arrangements in the residential area. The area is near Warsak Dam, in the Khyber tribal region 20 km away from Peshawar, an official at the scene told Reuters.




Pakistani Taliban faction Jamaat-ur-Ahrar takes responsibility

The spokesperson for TTP JA, Ehsanullah Ehsan said, "We have carried out the attack." He said the attack was a response to the "Army's spokesperson (Lt Gen Asim Bajwa's) press conference who said yesterday that militant groups had been eliminated.

Interior Minister congratulates security forces

Interior Minister Ch Nisar Ali Khan has congratulated security forces on successful operation against terrorists at Warsak Road Peshawar. He has also called for report into this incident from IG-FC KPK.



At least 29 killed, including army captain, as militants attack PAF base in Peshawar

"There are four bodies of terrorists and they look like suicide bombers as some of them are in pieces. One Chrisitan has been killed while two private security guards Khud Ali and Najeem and one police constable Sajjad have been wounded seriously," said a police official on the condition of anonymity.

"The attackers were killed in exchange of fire," he said, adding that security forces had started a search operation in colony and had cleared it.

"Operation against terrorists in Warsak concluded. All four suicide bombers killed. COAS appreciated army, Frontier Corps and police for prompt and effective response and defeating the terrorists attempt," Army spokesperson Lt General Asim Bajwa said.




During the operation Bajwa had tweeted, "Terrorist attacked Christian Colony Warsak Road, Peshawar. Security forces promptly responded, all four suicide bombers killed. Search in progress."

Bacha Khan University attackers vow to target schools in new video


Terrorist attacked Christian Colony Warsak Road, Peshawar.Sec forces Promptly responded,all 4 suicide bombers killed.Search in progress.

— Gen(R) Asim Saleem Bajwa (@AsimBajwaISPR) September 2, 2016


Speaking to The Express Tribune, SP Cantt said, "There were a total of four bombers, one of them made a separate entry, three took refuge in a under construction building in the colony, they initially faced resistance from the paramilitary forces but were all killed by the QRF."

"We have enhanced security of Christians establishments, schools, hospitals, colonies and churches. Police has sensitised the administration regarding security alert. Schools security have also been beefed up," he added.

A senior security official said the attack took place at around 6:00am. "The military commando's have moved in. We are not sure of the exact number of attackers at the moment but there seem to be more than two," he said. The official further confirmed that one resident of the colony was also killed.

Timeline of deadliest insurgent attacks in Pakistan

The colony is situated in the jurisdiction of the Mathra police station, outside the military cantonment.

Earlier this year, militants killed 21 people at Bacha Khan University.


This is a developing story and will be updated accordingly.