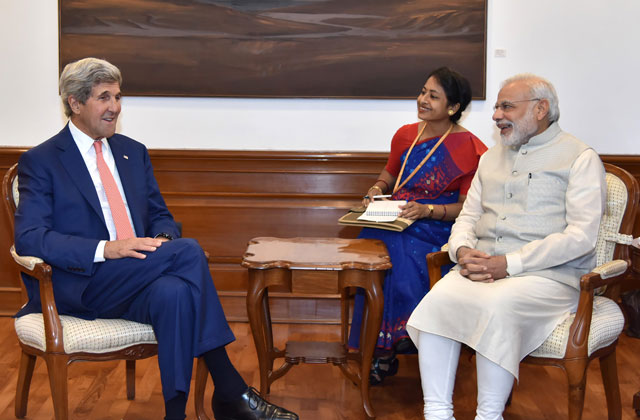 ---
ISLAMABAD: Pakistan has questioned the motive behind trilateral talks to be held between Afghanistan, the United States and India on the sidelines of the UN General Assembly session later this month.

"We are not sure what is the need for it, what this proposed arrangement hopes to achieve, and what would be its parameters and modalities," Foreign Office spokesperson Nafees Zakaria said at the weekly news briefing in Islamabad on Thursday.

He was responding to a question about the recent announcement by US Secretary of State John Kerry that the US would open the trilateral talks with the aim of stabilising Afghanistan.

Move to edge Pakistan out of Afghan talks

"My hope is that Pakistan as a country is not isolated by this but is encouraged by this," Kerry had said.

Pakistan has long considered India's role in Afghanistan with suspicion and often accused its intelligence agencies for using the neighbouring country's soil to create trouble in Balochistan.

The US move came at a time when relations between Pakistan and India are strained by the ongoing unrest in Kashmir. Ties have further soured after Indian Prime Minister Narendra Modi used his independence day's speech to raise the issue of Balochistan.

Zakaria, however, dismissed the Indian prime minister's assertions as an attempt to divert what he said atrocities being committed by the Indian forces in held Kashmir.

He said Prime Minister Nawaz Sharif had written another letter to UN Secretary General Ban Ki-moon, terming Modi's remarks on Balochistan as unwarranted and in in complete contravention of the UN Charter.

Kerry calls for more efforts to purge Pakistan of militancy

Asked to comment on the Indo-US defence pact, the spokesperson said it was an agreement between two sovereign states, hoping it would contribute to peace and stability.

However, Zakaria added a word of caution by suggesting that "Pakistan would like to see that such arrangements do not contribute to polarising the region by disturbing the strategic balance in South Asia and escalating the arms buildup".

Pakistan apprehensive of US-India defence deal

The agreement signed by US Defence Secretary Ashton Carter and his Indian counterpart Manohar Parikar on Monday is seen as part of efforts by the two countries to counter the growing maritime assertiveness of China, especially in the South China Sea.

In reply to another question, the spokesperson said the main purpose of government's initiative to dispatch special envoys comprising elected representatives to different world capitals was to highlight the situation in Indian-held Kashmir.

Zakaria said Pakistan also urged the UN to hold Indian forces accountable for the atrocities they were committing in the held territory.