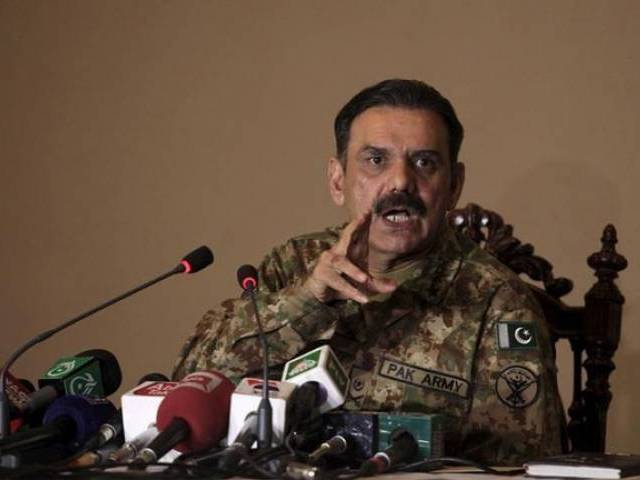 ---
The head of the military's media wing Lt-Gen Asim Bajwa on Thursday clarified the Pakistan Army did not play any favourites during the ongoing Operation Zarb-e-Azb.

Claiming the operation launched in June 2014 against militants is an indiscriminate operation, the DG ISPR said, "The salient operational guidelines for the operation were that it would be an indiscriminate operation, collateral damage would be avoided and human rights would be taken into consideration."

490 soldiers, 3,500 militants killed in Operation Zarb-e-Azb so far: DG ISPR

Bajwa shared details regarding the operation and the presence of Islamic State in the country. Here are the key points from Bajwa's press conference.

-Pakistan suffered loss of $106.9 billion in war on terror

-Pakistan isn't carrying out the operation for anyone but itself

-168 combing operations have been carried out thus far

-No Pakistani will accept anti-state talk by anyone sitting in a foreign country

-Pakistan has zero tolerance towards terrorism

-There is no good Taliban or bad Taliban

-Islamic State comprised of 25 people led by Hafiz Umer

-Hafiz Umer has killed 15 security personnel

-IEDs and ammunition recovered from the possession of terrorists durinf Khyber Operations were enough to help them carry out terrorist activities every day for 21 years.

-Rangers special powers being considered in Punjab

-3,500 terrorists eliminated in the operation

-2,272 soldiers injured in Operation Zarb-e-Azb

-66% IDPs have returned to their homes

-Afghanistan failed to take action against terrorists

-18 gates to be installed at Pak-Afghan border to aid border management. People will be allowed to cross the border through these checkpoints only

World left Pakistan alone to face terrorists: Asim Bajwa

-Incidents of abduction and extortion have reduced

-Da'ish is operating from some parts of Eastern Afghanistan

-Rangers personnel are sacrificing their lives for peace in Karachi

-30 Rangers personnel have been killed during Karachi operation




-Repatriation of TDPs was a huge challenge, however, construction of homes and rehabilitation of people has started

-Shawal has been turned into Switzerland

"Terrorism was rampant in the country in 2014, which is before Operation Zarb-e-Azb was launched," he said while adding that there were about 311 IED blasts, 74 attacks, and 26 suicide blasts."

"People could not imagine going to North Waziristan as it had become the epicentre of terrorism, however, the Pakistan Army managed to clear out the area completely after which forces moved to Khyber Agency where the terrorists had then settled."

Top al Qaeda facilitators in custody since Zarb-e-Azb launch

'Afghanistan failed to take action against terrorists'

"Pakistan had informed all stakeholders of Operation Zarb-e-Azb including, political, diplomatic and military, before the operation kicked off. The Afghan president and all concerned authorities in the country were informed of the operation and were requested to apprehend terrorists in case they crossed the border.


"They are your people, you will have to take action against them. But that didn't happen," Bajwa said.


The current challenges which Bajwa said the Pakistan Army is facing, are that "Terrorists infiltrate either sides of the 2,600km border which is porous. The army is trying to improve border management to resolve this issue."

Further, he said, "There are chances of terrorists from across the border entering Afghan refugees camps. Respectful repatriation of Afghan refugees will solve this issue."




AN EXPRESS NEWS SCREENGRAB

"Those who point fingers at Pakistan, they should consider the sacrifices the nation as well as the Army has made."

"Given the rough terrain of North Waziristan, it was a challenging task to carry out the operation in area, yet the armed forces were successful in clearing out all terrorist hideouts, caves and tunnels," DG ISPR said while stating that Khyber was worse. "Khyber has snowy mountains and was home to hideouts from the Afghan war, containing high density of IEDs."

On being asked to comment on Muttahida Qaumi Movement (MQM) chief Altaf Hussain's recent hate speech, Bajwa said, "No Pakistani will accept anti-state talk by a person who is sitting in a foreign country."

Czech Republic wants training of troops by Pakistan Army: ISPR

"Government has already taken action in this matter," he added while refusing to make any further comments on the topic.

'Shawal has been turned into Switzerland'


"Pakistan Army began operations in Shawal soon after terrorists from North Waziristan moved there. Shawal was their last stronghold safe haven, however, through continued operations armed forces managed to clear all villages, houses, schools and mosques in the region."




He further claimed that Shawal is now like Switzerland. "Residents in the area are gradually returning, but they want the army to stay and by providing stability and security, help locals revive the economy. Shawal is known for its pine nuts, which the terrorists were selling to fund themselves."
COMMENTS (8)
Comments are moderated and generally will be posted if they are on-topic and not abusive.
For more information, please see our Comments FAQ