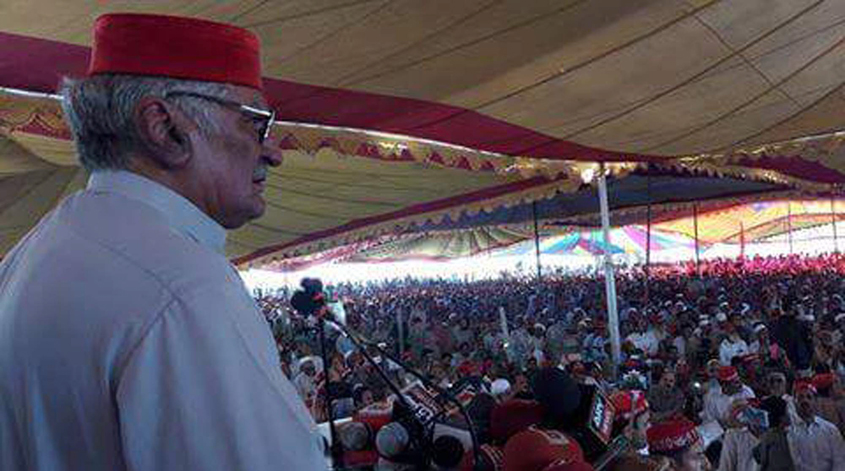 ---
SWABI: The government has been asked to convene an all-parties conference (APC) to review its internal and external policies to address existing challenges.

This was said by Awami National Party chief Asfandyar Wali Khan. He was speaking at a meeting organised in Yar Hussain, Swabi on Sunday.

"We supported the establishment of military courts to maintain peace in the region," Asfandyar said. "The government should inform us about implementation of National Action Plan."




The meeting was attended by ANP leaders Haji Ghulam Ahmad Bilour, Amir Haider Khan Hoti, Mian Iftikhar Hussain, Sardar Hussain Babak, Amir Rahman Khan and others. Asfandyar paid rich tributes to the late MPA on ANP, Haji Shoaib Khan.

Glowing tribute

The moot was arranged to honour the late MPA who was gunned down in Swabi in July. "The assassination of Shoaib Khan symbolises the assassination of peace," he said. "He was a true follower of Bacha Khan and believed in nonviolence."

He pinned the blame on the K-P government. "Amid violent acts of terrorism, the rulers are playing role of silent spectators," he said. "We will not remain silent over targeted attacks on ANP workers and stalwarts."

Asfandyar added the government must apprise the public about its actions and plans for Afghan militants, who are involved in violent acts in Pakistan. "All peace-loving forces must join hands against terrorism," he added.

Condemned

On the occasion, Asfandyar also condemned the crackdown against Afghan nationals and urged the government to put an end to such actions.

He urged the government to deviate itself from blocking the CNIC of Afghan nationals.

"We are Afghans and will remain Afghans," he said. "Afghanistan is the motherland of my forefathers and we will not remain silent on its destruction."

Published in The Express Tribune, August 29th, 2016.
COMMENTS
Comments are moderated and generally will be posted if they are on-topic and not abusive.
For more information, please see our Comments FAQ