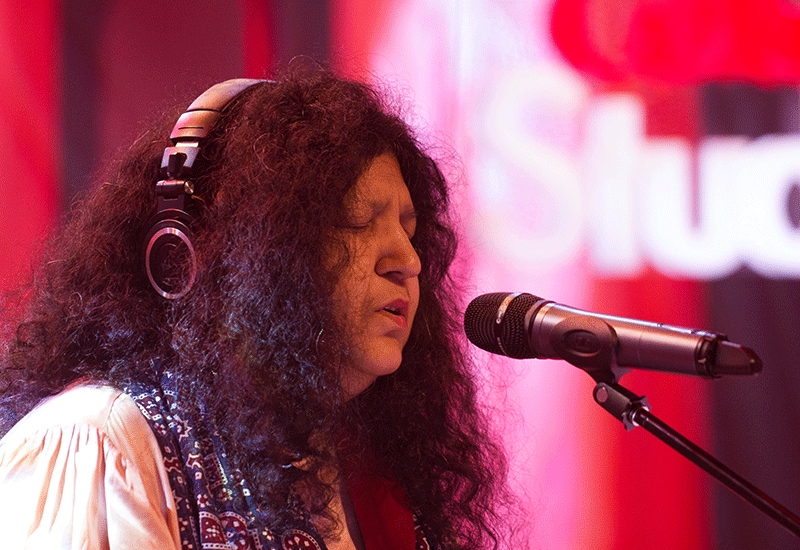 ---
KARACHI: Some were suggesting that so far, Coke Studio 9 sounds like one long and monotonous song; we were in agreement until the third episode was released.

Khaki Banda

He may have faltered with Aaqa but with Khaki Banda, Shuja Haider announces his arrival in style. His previous release, a collaboration of Abida Parveen and Ali Sethi, did not shine the way a creation of someone who broke into the mainstream with Tera Wo Pyar and worked wonders with the soundtrack of Khuda Kay Liye, should have.

The way he kept the epic feel of Khaki Banda intact, despite multiple variations, is a testimony to his genius and a lesson for others. The song, featuring vocal powerhouses in the shape of Ahmed Jehanzeb and Umair Jaswal, is easily one of the most well-thought-out and polished collaborations in the history of the show.




Coke Studio 9: The collaborations are not working out

If Garaj Baras still reminds us of what the show stood for, then Khaki Banda reasserts that it hasn't lost its ground, just yet. However the success of any tag team relies equally on the skill level as it does on the showmanship of the partners and that's where Jehanzeb spells his magic.

The singer of Kaho Ek Din has been off the radar for a while now and we were waiting for another day in his once glorious career and that day has arrived. Jehanzeb renders his low notes with as much elegance as the power with which he throws his high notes, so much so that your emotional state changes with his singing.

Jaswal, on the other hand, provides just the right ingredients by infusing bundles of energy through his raw yet refined vocals. New additions to the chorus, Shahab Hussain and Nimra Rafiq, give a haunting set of harmonies that lift the song to the level of a grand film score. Accompany all of this with a sultry groove by Mannu-on-the-chair and you get an unforgettable ode to great music and humanity.

Maula-e-Kull

It has been so long since we last saw Parveen do things her way on Coke Studio that Maula-e-Kull comes, as Faiz would say, like peace somehow comes to one in sickness.

A major positive on the show this year is the addition of Sabir Zafar – the country's most prolific lyricist – and despite being simple, the quality lyrical content complements the singing greatly.

For many among us who have grown up on this sort of music, the track hits home. Parveen invokes Bu Ali Shah Qalandar and at the same time, the house band bowls us over with minimal yet befitting instrumentation. The experiment with the bass line is pleasant on the ears and makes the song stand apart from a standard AR Rehman treatment. This is nobody else but Shani Arshad at his finest.

'Saathiya' singer Ali Khan wants to turn tables with 'Coke Studio 9'

It would be criminal to not mention him at this stage. This is just Arshad's second release of the season and after hearing it, all we can say is that waiting for the Amjad Sabri song has become even more difficult.

With Maula-e-Kull, Parveen is not helping make an upcoming artist's career. She is instead reminding us how we take her presence for granted. She belongs to a kind they don't make anymore and we are fortunate she has not given the trade up.