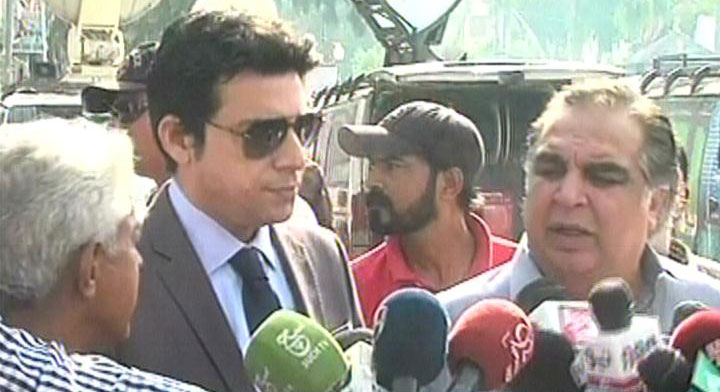 ---
KARACHI: Pakistan Tehreek-e-Insaf (PTI) leaders Faisal Vawda and Imran Ismail escaped an attack in Karachi on Friday.

According to Express News, both the leaders were attacked near city's Delhi Colony area but remained unharmed as their vehicle was bullet-proof. Both were on the way after returning from the National Accountability Bureau (NAB) office.

Faisal Vawda summoned by NAB




Talking to Express News, Ismail claimed assailants riding two motorcycles targeted the car and opened fire from two sides.


While coming back from NAB we were attacked by motorcyclists. 6 shots were fired on FV jeep. We r safe Alhamdollilah

— Imran Ismail (@ImranIsmailPTI) August 26, 2016


Empty shells of 9MM pistol were found on the site of the attack, where police reached and initiated investigation.

Meanwhile, IG Sindh AD Khawaja has sought an inquiry report into the targeted attack. According to a statement, the Sindh police chief directed the authorities to arrest the suspects with the help of an effective investigation process.

Talking to media on Thursday, Vawda had termed recent actions and crackdown against MQM, in the wake of Altaf Hussain's hate speech, a farce.

Altaf's speech being used to divert attention from PML-N's transgressions, says PTI

NAB had summoned Vawda for an inquiry pertaining to fraudulent allotment of amenity plots.

The notice was issued on Thursday under Section 19 of the National Accountability Ordinance shortly after the PTI leader held a press conference at his residence.

The letter had said that hundreds of amenity plots have been allotted to Faisal Vawda Group – a business conglomerate run by the PTI leader himself – in the name of dummy companies and NGOs.

The revenue generated from the 'illegal' utilisation of these plots has been used to finance terrorists and launder money on the pretext of investing in fund management companies, it alleged.

Imran Khan condemns attack

Meanwhile, PTI chairman Imran Khan condemned the attack.


Strongly condemn firing on Faisal Vawda & Imran Ismail as they came out of NAB Khi after submitting more evidences of Sharif companies. 1/3

— Imran Khan (@ImranKhanPTI) August 26, 2016
2/3 Clearly only 2 gps of ppl cld have done the firing: Those not wanting Panama Leaks investigations against Sharifs where evidence piling

— Imran Khan (@ImranKhanPTI) August 26, 2016
3/3 Or those wanting to spread anarchy in Karachi

— Imran Khan (@ImranKhanPTI) August 26, 2016
COMMENTS (19)
Comments are moderated and generally will be posted if they are on-topic and not abusive.
For more information, please see our Comments FAQ