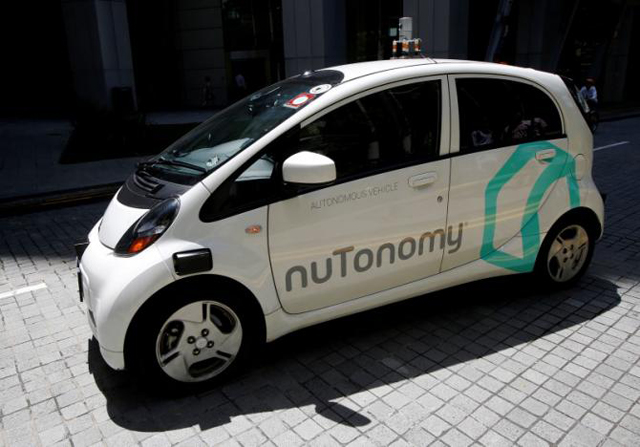 ---
SINGAPORE: The first driver-less taxi began work on Thursday in a limited public trial on the streets of Singapore.

Developer nuTonomy invited a select group of people to download their app and ride for free in its "robo-taxi" in a western Singapore hi-tech business district, hoping to get feedback ahead of a planned dull launch of the service in 2018.




"Beginning today, select Singapore residents will be invited to use nuTonomy's ride-hailing smartphone app to book a no-cost ride in a nuTonomy self-driving car that employs the company's sophisticated software, which has been integrated with high-performance sensing and computing components. The rides will be provided in a Renault Zoe or Mitsubishi i-MiEV electric vehicle that nuTonomy has specially configured for autonomous driving. An engineer from nuTonomy will ride in the vehicle to observe system performance and assume control if needed to ensure passenger comfort and safety," a statement from nuTonomy said.

Uber to launch driverless car service in Pittsburgh

"This is really a moment in history that's going to change how cities are built, how we really look at our surroundings," nuTonomy executive Doug Parker told Reuters.




The announcement came a week after Uber announced that it will launch self-driving cars for its ride-sharing service in Pittsburgh. According to nuTonomy officials, the service will start small — six cars now, growing to a dozen by the end of the year.

Parker, whose company has partnered with the Singapore government on the project, said he hoped to have 100 taxis working commercially in the Southeast Asian citystate by 2018.




CEO and co-founder of nuTonomy, Karl Iagnemma, said, "nuTonomy's first-in-the-world public trial is a direct reflection of the level of maturity that we have achieved with our AV software system. The trial represents an extraordinary opportunity to collect feedback from riders in a real-world setting, and this feedback will give nuTonomy a unique advantage as we work toward deployment of a self-driving vehicle fleet in 2018."




NuTonomy hope that one day it could help cut the number of vehicles on Singapore's crowded roads by as many 600,000, bringing the figure down to a more acceptable 300,000.

Uber launches in Karachi

In addition to Singapore, nuTonomy is operating self-driving cars in Michigan and the United Kingdom, where it tests software in partnership with major automotive manufacturers such as Jaguar Land Rover.