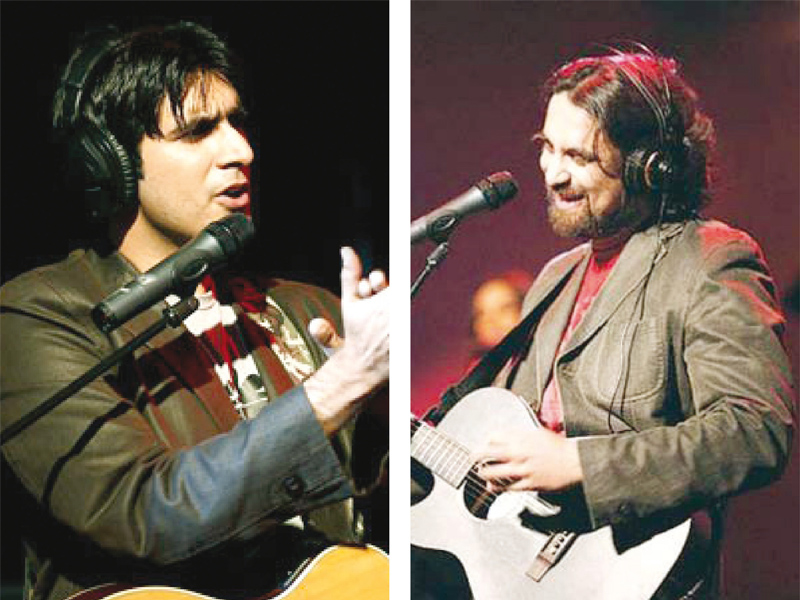 ---
LAHORE: Ali Noor and Ali Hamza are undoubtedly, the most celebrated musicians on this year's Coke Studio. After appearing on season two and three of the show as featured artists previously, the brothers – who together form rock band Noori – have made a fantastic return, this time as music directors. And while their latest offerings from the platform, Baliye and Aaja Re Moray Saiyaan, rule the airwaves, the dynamic duo has been making greater plans. In fact, in Ali Noor's own words, they are looking to "change the future of music in Pakistan".

With that statement, Noor refers to Noori's brainchild BIY Music – an initiative to promote original music across the country. "You have to BIY (Believe in yourself) to DIY (Do it yourself)," says the singer, explaining the name of his record label.

"Initiatives like Coke Studio and Nescafe Basement are commissioned projects so we needed to have a place we could use as our own platform and are working hard to develop that."

Beginning as a record label, BIY Music metamorphosed into a space where artists can brainstorm and generate originals. The premise is simple; "The output shouldn't be cover songs. We want people to bring something new to the table," says Noor. According to him, current Coke Studio members such as Junaid Khan, Ali Azmat and Momina Mustehsan are already on board.




But this is hardly all that Noori has been up to recently, seeing as how the band seems to be on a roll since the release of Begum Gul Bakaoli Sarafarosh (BGBS) last year. With the album, Noori made a solid comeback after a 10 year hiatus and even brought along a collaboration with Indian folktronica duo Hari and Sukhmani. And now, with a Lux Style Award for Best Music Album under their belt, the Lahore-based band is clearly just warming up.

Apart from Coke Studio, Noori's latest work also come from relatively new music show Cornetto Pop Rock, wherein the band has collaborated with singer Qurutulain Balouch (QB) on a song called Pyar Wyar.

"This was QB's first project; the first song she wrote herself. Now, we will develop it further, along with her," shares Noor. A behind-the-scenes video on Noori's BIY Music page shows Noor and Hamza's encouragement and direction for QB, the result of which is a noteworthy, original melody. The coming days will also see the band work with Azmat.

With so much on their plate, Noori wishes to create a crescendo effect and encourage other Pakistani artists to create original content. In fact, it was with this aim that the band came up with Aja Re Moray Saiyaan, a song written by Zehra Nigah that features Zeb Bangash.

"The melody had been with us for 20 odd years but we kept going back and forth with it. The real credit goes to Bilal Maqsood, who really helped us put it together," says Hamza, who also lent vocals to the song.

His son has also sung the number in a home video that recently went viral. "I think my son feels he's a star in his own right. Ever since that video went up, he acts like a rock star and even has the attitude! He's got a good mind for music and makes his own lyrics and melodies too."

Baliye, on the other hand, is the fusion of an original track written and composed by vocalist Haroon Shahid with a Musarrat Nazir classic, Laung Gawacha.

"All our other songs from Coke Studio are originals, although the show's format is to work with existing classics," reveals Hamza. The duo shares that they became very friendly with Strings and forced them to get involved. "We were working more as composers and they were doing the producing. We made songs from scratch on Coke Studio, along with Strings and the house band. If there was one thing I could take away from the experience, it would definitely be production," he adds.

If all of this isn't enough, there is another Noori original coming up on Coke Studio, with Indian singer Shilpa Rao and Noor and his mother who plays the sagar veena on it.

"She's the only one in the world who plays that instrument and her father Raza Kazim made it for her," says Noor, adding that while there is ample material ready to put out in an album, he is focusing on releasing other peoples' work through BIY Music.

"When you're a producer, the entire responsibility falls on you," he claims. "Now as musicians, we want to experiment with new material. No one is pursuing music, which makes it perfect that we keep on exploring sounds and that's what Coke Studio has helped us do."

Published in The Express Tribune, August 25th, 2016.

Like Life & Style on Facebook, follow @ETLifeandStyle on Twitter for the latest in fashion, gossip and entertainment.