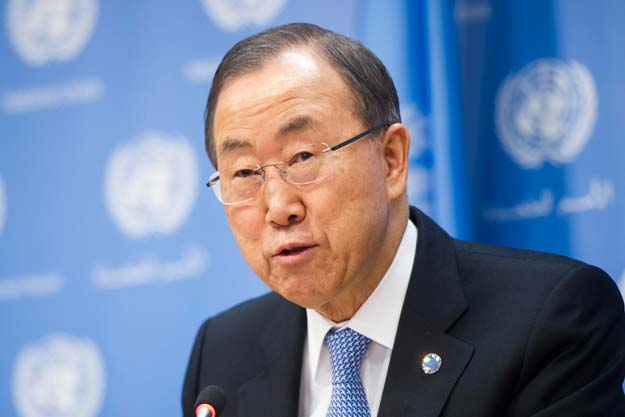 ---
United Nations Secretary-General Ban Ki-moon deplored the ongoing killings in Indian-held Kashmir and urged India and Pakistan to settle Kashmir and other outstanding issues through dialogue.

"I stand ready to offer my good offices, should it be requested by both sides, to facilitate dialogue in order to achieve a negotiated settlement," Ban said. Ban wrote a letter to Prime Minister Nawaz Sharif in response to a letter from the latter apprising the UN chief on the deteriorating situation in Kashmir and large-scale rights violations by Indian security forces. "I deplore the loss of life and hope all efforts will be made to avoid further violence," the secretary-general said in his letter.

Anti-India protests erupt in Balochistan

At least 70 Kashmiris have been killed and thousands injured in clashes with security forces after the killing of a prominent Hizbul Mujahideen Commander Burhan Wani in a shootout on July 8.

In his letter on August 5, PM Nawaz called for efforts to end the persistent and egregious violation of basic human rights of Kashmiris and also to implement the decades-old UN Security Council resolutions providing a framework for the settlement of Kashmir dispute through a plebiscite.

"I appreciated the continued commitment of Pakistan to the peaceful resolution of the Kashmir dispute for the sake of regional peace and security, as you reaffirmed in your letter," Ban said. "The United Nations remains convinced that it is only through dialogue that outstanding issues between Pakistan and India, including on Kashmir, can be addressed."

US voices concern over Kashmir violence

The secretary-general expressed that he looked forward to meeting Sharif again during the upcoming 71st session of the United Nations General Assembly to "discuss matters of common interest."

Pakistan has been actively pursuing the Kashmir issue across various forums at the United Nations with Ambassador Maleeha Lodhi focusing on it in her statement at the General Assembly in a debate on human rights. She also raised the issue during meetings with UN leaders and the Security Council president last month.
COMMENTS (12)
Comments are moderated and generally will be posted if they are on-topic and not abusive.
For more information, please see our Comments FAQ