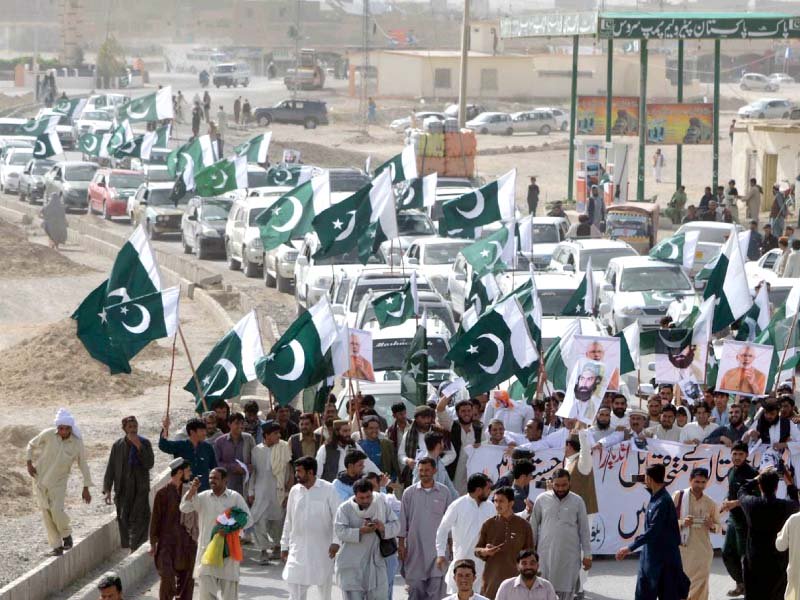 ---
QUETTA: Indian Prime Minister Narendra Modi's recent statement on Balochistan has sparked furious protests across the province with Chief Minister Sanaullah Zehri accusing New Delhi of stoking terrorism in the volatile region.

On Thursday, civil society activists and different political organisations staged rallies in Dera Bugti, Lasbela, Naushki, Chaghai, Khuzdar, Naseerabad, Jaffarabad, Kohlu, Dera Allahyar, Dadhar, Sibi and Bolan among other cities of Balochistan.

Modi 'crossed the red line' when he mentioned Balochistan: Foreign Office

The protesters marched through the streets, condemning the Indian premier's Independence Day diatribe against Pakistan, in which he claimed that the people of Balochistan and Azad Kashmir had thanked him for talking about them.

In Quetta, the Pakistan Workers Party workers took out a procession and marched through different roads before ending the protest in front of the Quetta Press Club.

The protesters also set fire to Indian flags to express their anger and shouted slogans against the Indian prime minister while demanding the federal government take up the issue on international forums.

Balochistan CM Zehri said the demonstrations and rallies were evidence that Balochistan's people did not like whatever Modi had said about the province.




"The Baloch are protesting against Indian prime minister's statement while people in Kashmir are protesting against the policies of India [as well]," he said. "Protests are taking place in Kashmir despite the imposition of curfew."

Zehri said the Kashmir and Balochistan issues were entirely different as people of his province were in favour of Pakistan while people in Kashmir were resisting state-sponsored oppression.

He also castigated Brahamdagh Bugti, the self-exiled head of the banned Baloch Republican Party (BRP), for thanking Modi for taking up the issue of Balochistan.

Calling him a traitor, Zehri said Brahamdagh should have thought about the friends of his grandfather Nawab Akbar Bugti who had sacrificed for this country. "By saluting Modi, Brahamdagh has proved that he is a traitor," Zehri told the media. "He saluted the man who is responsible for bloodshed in Balochistan."

"Thousands of people resort to protest in Kashmir, but here, Brahamdagh or anyone who supports Indian intervention, cannot manage to assemble 50 people," he added.

The CM said he had pointed out India's support to terrorists in Balochistan earlier but no one had paid attention back then. The home minister, he said, had publicly announced the arrest of four terrorists who had confessed the Indian government was providing them financial assistance.

Balochistan terms Modi's remarks confession of Indian meddling in province

"I have the evidence of RAW's involvement in Balochistan, and whatever I say is based on evidence we have. RAW is providing training to the terrorists in Balochistan," he continued," and Brahamdagh wants to make us a slave of India which is not possible."

Meanwhile, Home Minister Sarfaraz Bugti said the people of Balochistan had given a clear message to the Indian prime minister that he should think before making any statements about them.

While addressing a conference at Quetta Law College, he also seconded Zehri that India was behind the unrest in Balochistan.

The home minister said the politics of Brahamdagh was restricted to Facebook and he did not enjoy any support in Balochistan. "Brahamdagh has lost support even in Dera Bugti as the people took to the streets to condemn the statement of Modi," he said.

"This is Balochistan where the people are patriotic and will go after every terrorist who wants to create problems," Sarfaraz said. "This is not Bangladesh."

Published in The Express Tribune, August 19th, 2016.
COMMENTS (90)
Comments are moderated and generally will be posted if they are on-topic and not abusive.
For more information, please see our Comments FAQ