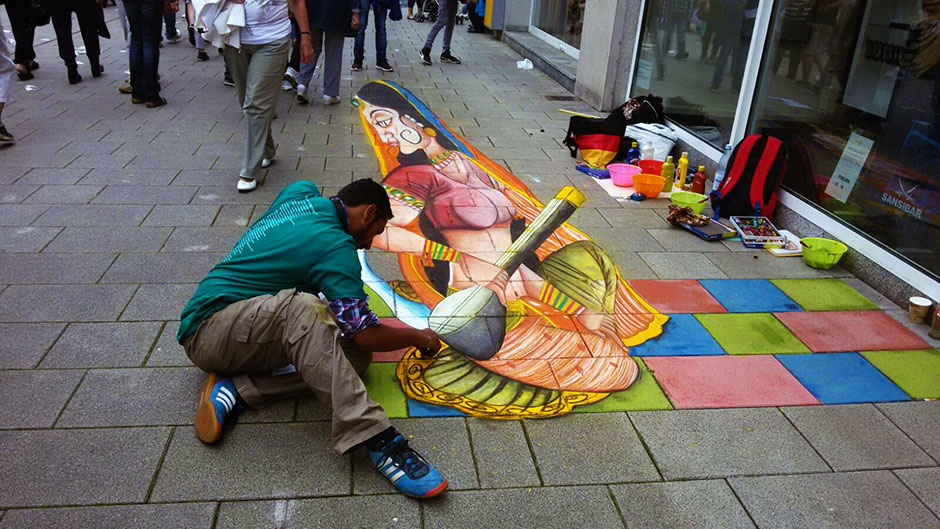 ---
When you think of chalk, you probably go back to all the times you had to hold one up before the black board in school.

But for some, chalk is more than just a childhood memory or hopscotch. Self-taught Pakistani anamorphic chalk artist Obaid ur Rahman took to the streets of Germany to participate in the sixth annual street art festival, the largest of its kind in Europe. The 24-year-old was among 45 participants from the world over including Mexico, Italy, France, Turkey, Russia, Nepal and Japan who created works in three categories at the Wilhelmshaven International Street Art Festival.

Karachi artists reclaim city walls from hate graffiti

Being the only Pakistani to participate in the competition, Rahman shared his experience of participating in his first-ever international street art festival with The Express Tribune.




"When I started all this [chalk art] two years ago, I soon became part of the international chalk art community," Rahman said while recalling how he became involved in the art form. "I took a break from art school in 2014 and started drawing murals with coal on the walls of my building's roof," he said.




"Following my curiosity I challenged myself to try and experiment with different kinds of compositions ranging from simple cartoon characters to pool drawings and much complex compositions."

Rahman's first opportunity came about in December 2014 when Karachi's Dolmen City Mall gave him permission to install and create a drawing on their premises. "The drawing was well received by the public and it motivated me to carry on with my passion that I had developed for 3D /anamorphic art," Rahman said.




As Rahman developed his skills he was able to take them to an international platform. "This year seemed like the right time to apply and by the grace of Allah I was invited to take part and create art of quality similar to that of other participants."

Word on the street: Bringing graffiti art into mainstream

Commenting on being the only Pakistani to have participated in the competition, Rahman said, "It was such an honour for me to represent Pakistan at an event where no Pakistani artist has ever participated before. It was an amazing opportunity for me to project a positive image of Pakistan internationally. Everything I have is because of Pakistan so it was a very very proud moment for me," he said.




Rahman describes his overall experience as overwhelming because he initially had no plans of taking his work international. "Working alongside my idols, being able to meet them, seeing their work in person and getting to know about their processes was beyond amazing," he said.




Although the grand prize was won by a German artist, Rahman remains hopeful about his prospects in street art. "After this amazing experience, I will be participating in more international festivals this year and the years to follow," he said.
COMMENTS (3)
Comments are moderated and generally will be posted if they are on-topic and not abusive.
For more information, please see our Comments FAQ