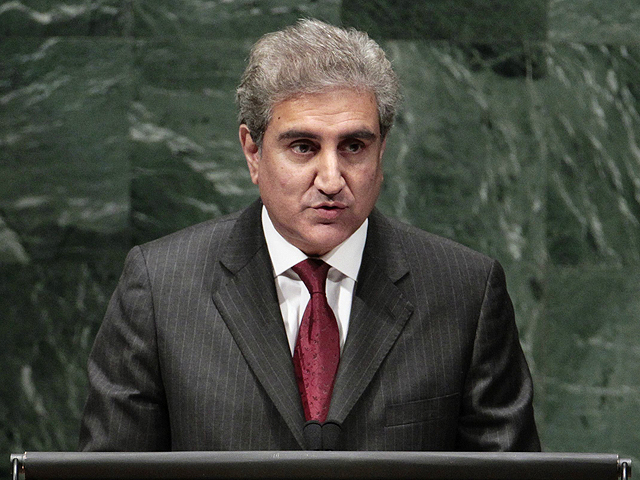 ---
NEW DEHLI: Foreign Minister Shah Mahmood Qureshi on Friday rebuffed India's claim that military aid provided to Pakistan will be used against its eastern neighbour.

Earlier on Friday, Indian Defence Minister A K Antony had cautioned the US against supplying military equipment to Pakistan, saying the hardware could be diverted to target India. The warning came after the US said it would deliver unarmed drones to Pakistan and transfer $600 million to Islamabad to pay for anti-militant operations.

Speaking to reporters in Lahore, Qureshi was quick to allay India's fears, however, saying the hardware would be used only against militants, who have been blamed for bomb attacks killing more than 3,300 people in Pakistan. "They [India] should not be afraid of this because it will be used against terrorist networks that have made this region unsafe, he said."

"The military equipment that we are getting from the US should not worry India, because it is meant for counter-terrorism and to enhance our capacity to fight terrorist networks," he told reporters in Lahore on Friday. The Indian defence minister had told reporters in New Delhi that India's concerns had been conveyed to Washington. "Even though the US is giving equipment to Pakistan to fight against the Taliban, we feel there is every possibility of [Pakistan] diverting most of [the equipment] to the Indian border," Antony said.

"We have already conveyed our concerns about transfer of equipment to Pakistan. We told the US that they have to be careful about that," the defence minister added. Pakistan has domestically produced surveillance drones but it told the US in March that it wanted sophisticated US-made aircraft.

The Pentagon said it would soon deliver around a dozen unarmed drones to Islamabad "within a year" to aid its fight against al Qaeda and Taliban insurgents. The US has said $600 million will be paid to Pakistan to reimburse it for operations carried out over the past year against extremists.
COMMENTS (2)
Comments are moderated and generally will be posted if they are on-topic and not abusive.
For more information, please see our Comments FAQ