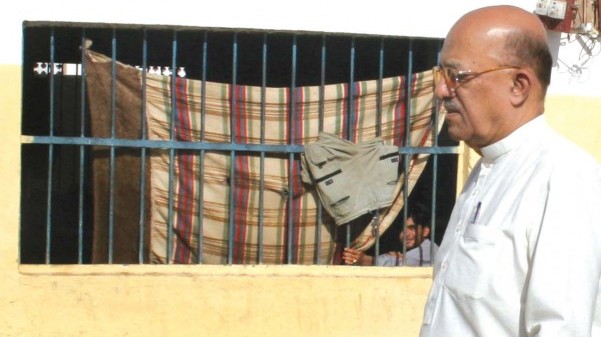 ---
KARACHI: To ensure that the much awaited medical complex in District Jail Malir becomes a reality, prisoners helped construct it.

It is hoped that the inauguration of the complex today, Saturday, would improve the lives of 1,917 men housed in the jail that is actually designed for 893 inmates. The hospital, first of its kind in Sindh, has a surgical ward, an Out-patients Department (OPD), a dental unit, an X-ray machine and a chemical laboratory - all of which have been donated by a private bank.

Meanwhile, the required funds were raised by Justice (retd) Nasir Aslam Zahid, who also runs a legal aid centre at the jail. One of the first ten inmates who with receive treatment at the new hospital is Saifur Rehman. The visually impaired inmate told The Express Tribune that he is particularly excited about the surgical ward where he would undergo an operation to restore his vision.

This is Rehman's second term in prison and he does not hesitate to admit that is an alcoholic, which prison doctors suspect is the cause of his eyesight loss. "Once we do the tests on Saturday, Saif will be ready for surgery," said his doctor. As prison superintendents and other staff members were busy giving final touches to the complex on Friday evening, one of the prisoners was counting his wages.

"They gave us Rs200 per day," said 33-year-old Kanti Lal Devji, an Indian fisherman who remains incarcerated despite having served his yearlong term. "We all worked as labourers. It helped us kill time and earn some extra money," he said, adding that it was another Indian inmate, Devsang, who helped with the tile work in the medical complex as well as the legal aid office which was constructed three months ago.

Deputy Superintendent of the prison Shakir Hussain Shah said that the hospital was badly needed as most of the prisoners suffer from infectious diseases such as tuberculosis, HIV/AIDS and hepatitis. Shah feels that the Malir jail has a particularly high rate of infections because of the nature of crimes for which prisoners are incarcerated there. "Only those who have been convicted for petty crimes such as robberies or alcohol or drug related offences for five years or less are housed here.

This means that this is the prison with the maximum number of inmates with health problems because even in prison, addicts continue to abuse drugs and share needles," said Shah. Prior to the hospital, the only medical care option was one of the public hospitals in the city. However, prisoners were required to be assisted there by court police and were only allowed to visit the OPD and could not be admitted overnight. "With this new hospital, things will hopefully change for the better," hoped Assistant Jail Superintendent Zulfiqar Pirzada.

Doctors, however, as well as Justice Zahid have concerns about the staffing of the hospital. The strength of the doctors at the jail currently stands at only three. "Moreover, their salaries are not high enough to attract younger doctors who are more active and willing to help prisoners," said Justice Zahid. Currently, the salary of a grade-17 prison doctor in Sindh is Rs15,000 as opposed to Rs50,000 of prison doctors in Punjab who are entitled to a non-practitioner allowance that doctors in Sindh don't have.

"This is bound to add to the doctors' resentment and they would not be motivated to work," said Justice Zahid. A recent survey conducted by prison authorities revealed that there are currently 44 cases of hepatitis C, 17 cases of HIV, 12 cases of hepatitis B and seven cases of Venereal Disease Research Laboratory, a sexually transmitted disease. Furthermore, the number of tuberculosis patients has also risen in the recent past due to the detention of Indian fishermen.

Out of the 583 Indian fishermen detained in Pakistan, 283 are in District Jail Malir among whom tuberculosis is a common disease. "This is fast spreading among other inmates due to overcrowding in barracks," said Shah. However, jail authorities hope that they would now be able to conduct blood tests of new inmates and house them separately in case they suffer from an infectious disease. Speaker National Assembly Fehmida Mirza will be the chief guest at inauguration ceremony.
COMMENTS (1)
Comments are moderated and generally will be posted if they are on-topic and not abusive.
For more information, please see our Comments FAQ