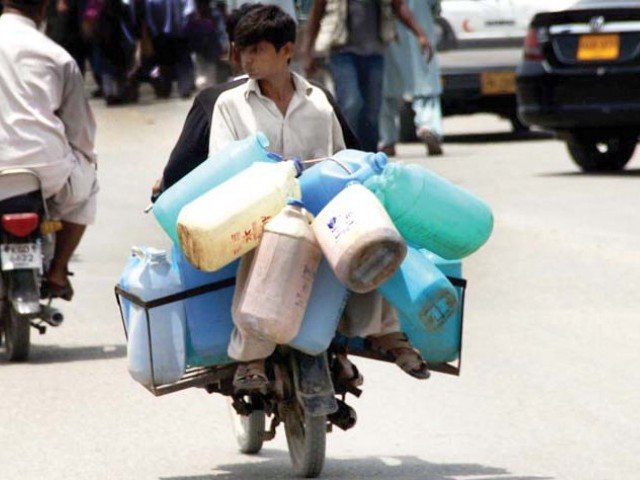 ---
KARACHI: The suspension of electricity attributed to the ongoing rains has caused a water shortfall of over 250 million gallons per day (MGD) in the metropolis, according to Karachi Water and Sewerage Board's (KWSB) Zafar Palijo.

Palijo, who heads KWSB's water trunk main, told The Express Tribune that Tuesday's power breakdown resulted in a 200 MGD shortfall, whereas the unavailability of power on Wednesday for around three hours resulted in further scarcity of water in Karachi.

The water supply to the metropolis from Dhabeji pumping station was completely suspended between 2:40pm to 5:30pm on Wednesday owing to another electricity breakdown in the area, he explained. Talking about damages to the system, he informed that a 72-inch-diametre pipeline at the Dhabeji pumping station burst on Tuesday evening due to tripping of K-Electric's feeders, adding that it has now been repaired. Explaining the reason behind the pipe's bursting, he said, "The water from the pumping stations is pumped to a 200-feet-high hillock so it comes down with the aid of gravity. When the pumping machines suddenly stop [due to electricity failure], the water pressure bursts the pipes at weak points."

What sewage?

KWSB's technical services deputy managing director Fahim Zaidi denied any reports of sewerage lines overflowing in the metropolis.

"It is rainwater that has accumulated on the streets and the district municipal corporations are working on clearing it," he said, adding that he has yet to receive any reports regarding any sewage line being burst or overflowing.

Published in The Express Tribune, June 30th, 2016.
COMMENTS
Comments are moderated and generally will be posted if they are on-topic and not abusive.
For more information, please see our Comments FAQ