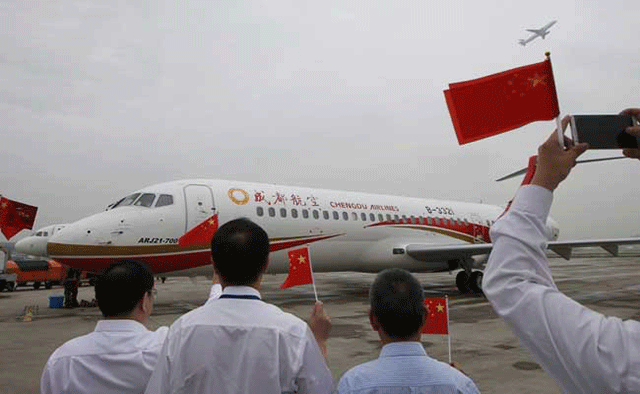 ---
BEIJING: China's homegrown regional jet made its first commercial flight Tuesday, operator Chengdu Airlines said, after years of delays raised questions about the country's ambitious plans for domestically-produced planes.

Chengdu Airlines flew the ARJ21 from its eponymous home base, the capital of the southwestern province of Sichuan, to the commercial hub Shanghai carrying 70 passengers.

More than half were paying customers who were aware they were flying in a new plane, an airline spokesman told AFP.

The ARJ21 -- which stands for Advanced Regional Jet for the 21st Century -- will ferry flyers on the Chengdu-Shanghai route three times a week, he added.

First ever Boeing 727 to take its final flight

The inaugural flight was the culmination of a 14-year programme to make China a commercial aircraft manufacturer capable of competing with dominant foreign players Boeing and Airbus.

But the aircraft still lacks the crucial US Federal Aviation Administration (FAA) certification that would allow it to fly in US skies, and most manufacturers do not yet view the COMAC plane as a competitive threat.

Even so, the Chinese commercial aircraft market is already Asia's largest and crucial to aerospace plans over the next decades.

China demands end to US surveillance after aircraft intercept

Pictures of the ARJ21 inaugural flight showed a patriotic spirit among the passengers, with some waving Chinese flags and signing their names on a memorial banner, flanked by people in panda costumes.

First formally approved by the government in 2002, the plane was shown to journalists five years later, when officials confidently predicted deliveries in late 2009.

Chengdu Airlines finally received the aircraft from manufacturer the Commercial Aircraft Corp. of China (COMAC) last November, and it made several "demonstration" flights without passengers in January.

While the debut commercial flight is a landmark for COMAC, the ARJ21's quality and reliability still have to be established to win over customer and passenger confidence.

JF-17 programme a symbol of Pak-China friendship: China Aviation Industry

The plane can seat 78-90 passengers and has a range of 2,225-3,700 kilometres (1,380- 2,294 miles).

State-owned COMAC has claimed more than 270 orders for the ARJ21, mainly from domestic customers.
COMMENTS (5)
Comments are moderated and generally will be posted if they are on-topic and not abusive.
For more information, please see our Comments FAQ