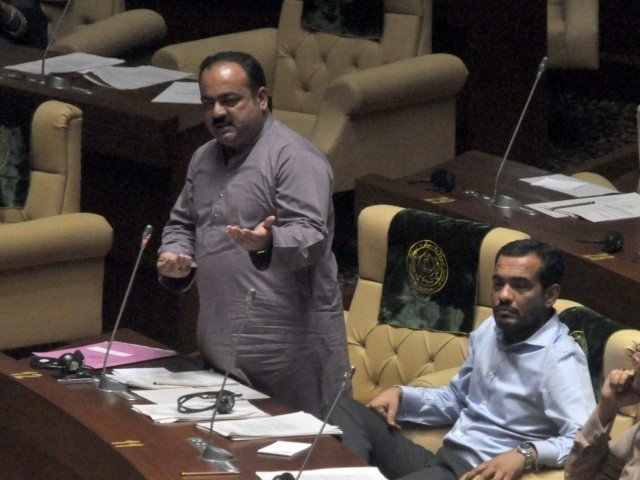 ---
KARACHI: During the last six days, political point-scoring has dominated assembly proceedings and most of the members have raised petty issues rather than discussing the budget. During the session, which started with deputy speaker Shehla Raza in chair, the issue of a new province in Sindh once again dominated the proceedings.

No party in the Sindh Assembly supports the Muttahida Qaumi Movement (MQM) on carving out a new province from Sindh. This compelled the MQM to reverse their stance on Wednesday, with its leaders saying they will withdraw their demands for a new province if the Pakistan Peoples Party (PPP),made assurances of due rights to their people in urban areas. "We don't want to break up Sindh and love this land but the incumbent government policy has compelled us to make this demand," said MQM's Muhammad Hussain.

Hussain threatened to continue the movement for the new province if their demands are not met. "Most of our development schemes are being removed by bureaucrats. We will see [to] these officers when MQM comes into power," he said.

MQM linked to 'over 70 bank accounts in UK'

MQM is the major opposition party in the Sindh Assembly but its allies on the opposition benches belonging to the Pakistan Muslim League - Nawaz and and Pakistan Muslim League - Functional (PML-F) criticised its demands.

PML-F parliamentary leader Nand Kumar said that thousands of followers of the Hur Jamaat led by Pir Pagara were martyred while fighting against British rule in Sindh and once again these Hurs are ready to sacrifice their lives if any one tried to disintegrate Sindh. "We are sitting with the MQM on the opposition benches but will not compromise on Sindh-related issues," he said.

Budget speeches

Earlier, Kumar asked the government to reduce non-development expenditure, which he termed 'shahi kharch'.  "Most of the funds are spent on five dozen cabinet members that include ministers, advisers, and special assistants to chief minister," he said, adding that Rs11 billion has been allocated in the next budget for the cabinet members and their perks.

He also criticised the finance department for not releasing the development funds to opposition members. "For the last three years, the funds have not been released to opposition MPAs belonging to my party," he claimed. "Government has allocated Rs162 billion for development portfolio in Sindh but barely spent 53% funds so far," he said. "We want to know where the amount has gone, whether this budget has been taken away by model Ayyan Ali or you have sent it to Dubai via sea?"

Published in The Express Tribune, June 23rd, 2016.
COMMENTS (2)
Comments are moderated and generally will be posted if they are on-topic and not abusive.
For more information, please see our Comments FAQ