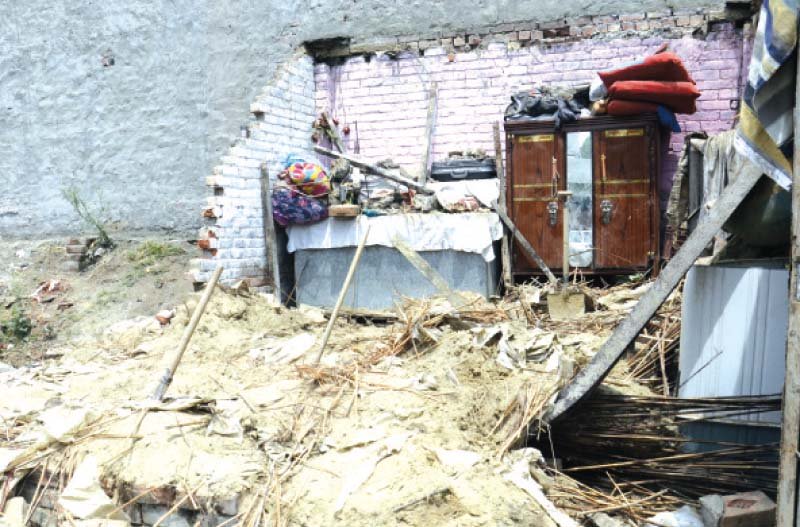 ---
LAHORE: Four members of a family died on Tuesday and six others sustained injuries when the roof of their house collapsed.

Brothers Riaz and Hasnain had lived in the single-storey house located in Gosha Ahbab, Azam Garden, on Multan Road.

Talking to The Express Tribune, Riaz said that his sister-in-law, Shabnum, had come from Pakpattan to visit them.

His mother, Manzoora Bibi, 60, his wife Shama Bibi, 22, Hasnain's wife Hafeeza Bibi, 35, along with their children had gathered at the house to meet the guest.

"I was in the neighbourhood when the roof collapsed. I heard the noise and ran back and saw that the roof had caved in," he said.

Qasim, a neighbour, said that he was standing in his house when he heard the explosion and the screams. "I rushed out and saw that the house had collapsed. We started to remove the debris and alerted Rescue 1122. We pulled out all the family members. Rescue teams then took them to the Lahore General Hospital for treatment," he said. Four of the injured were pronounced dead at the hospital.

The deceased were identified as: Shama, Manzoora, one-year-old Bilal and Hajira. The injured were identified as Ahmed, 2, Mariyam, 3, Zainab, 3, Ghulam Fatima, 7, Shabnum, 30, and Hafeeza.

A Rescue 1122 official said that the roof had been in a dilapidated condition. "The roof was made of mud. When rainwater stood on it, it caved in," he said.

Bhakkar

Two people were killed and three others were injured in separate rain-related accidents in Bhakkar on Tuesday.

Police said that in Dillywala, a woman died after being hit by debris during the windstorm that preceded the rain. In Mungo Changar village, a labourer working at a kiln died after being hit by a lightning strike. Two women and a child were injured in Shah Alam village when the roof of their house collapsed.

Published in The Express Tribune, June 22nd, 2016.