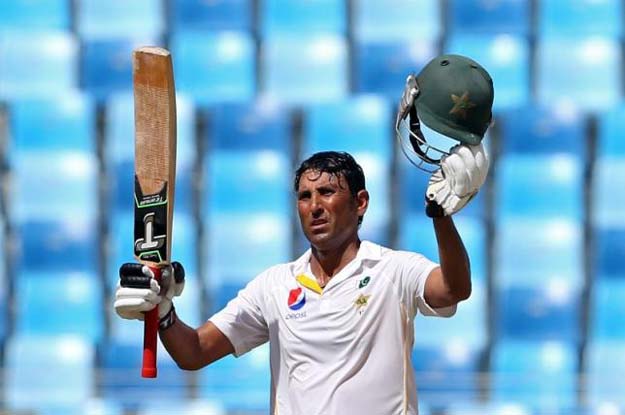 ---
LAHORE: Pakistan's top Test batsman Younus Khan has brushed aside the threat posed by England's in-form pace attack as his team prepare to return to the scene of an infamous spot-fixing scandal in 2010.

Khan said Pakistan's familiarity with the likes of Stuart Broad and James Anderson would blunt their potency when they open a four-Test series at Lord's on July 14.

The 'home of cricket' will provide a tough opening environment for Pakistan after the spot-fixing case of 2010, which ended with jail terms for young fast-bowler Mohammad Amir and two other players.

Amir, now 24, is back in Pakistan's squad after completing a ban from cricket but Younus said his teammates now wanted to put the past behind them and enjoy playing at the historic London ground.




"It is always a pleasure whenever you play in Lord's," Younus told AFP at a dinner organised by Britain's High Commission in Lahore.

"The tradition and using that dressing room and that ground... in my mind it's always a challenge and a pleasure for me so playing cricket in England is all about that."

England's fast bowlers combined to take 33 wickets between them in their recent 2-0 rout of a Sri Lankan side missing recent retirees such as Kumar Sangakkara and Mahela Jayawardene.

Anderson's 21 wickets came at a phenomenal 10.8 runs apiece, but Younus, the lynchpin of Pakistan's batting for more than a decade, said his team would not roll over as easily.

"No doubt about Anderson and Broad -- they are the top bowlers these days. But we play regularly against Broad, Finn and Anderson," he said.

The two teams last clashed in the UAE, where Pakistan plays its home games because of security concerns, in October-November 2015 with the South Asian side prevailing 2-0 in the three match series.




They also played in the UAE in 2012, when Pakistan rolled over the English 3-0.

Then, as now, Younus and fellow veteran Misbah-ul-Haq (age 42) are seen as key to holding up a batting order that has traditionally been troubled by quality swing bowling.

"If you go there and play according to your plans you'll be successful in any conditions and against any bowler," he said.

It is a strategy that has paid dividends for Younus in the past even in English conditions, with its pacey pitches that encourage movement in the air.

In five previous Tests on English soil he has maintained an average of 52.22 — one run shy of his overall career figure — and managed one century along with three fifties.

Now in the twilight of a career that has seen him amass 31 Test centuries — tenth on the overall list and the highest number by any current player — Younus remained coy on his future plans.

"Maybe it will be my final tour," he said, before quickly adding: "As a cricketer and as a top sportsman I feel very comfortable with my fitness and my form so God willing (if) I perform the way I perform for my country maybe I will play for four-five more years, maybe."




Beyond Younus and Misbah, no Pakistani batsman has broken into the world's top 10 for many years, but the ethnic Pashtun said he was confident about the younger players who are waiting in the wings.

"Asad Shafiq is there, Azhar Ali is there, then after them there are the youngsters are upcoming," he said.

"Whenever a top cricketer retires everyone thinks after him what should we do. But suddenly some of the players come and they play for their country and they play for themselves.

"So I think after us there will be guys who play better than us."
COMMENTS
Comments are moderated and generally will be posted if they are on-topic and not abusive.
For more information, please see our Comments FAQ