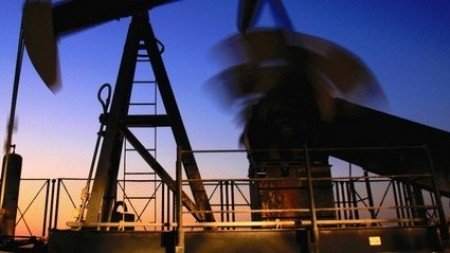 ---
SINGAPORE: World oil prices slumped again on Wednesday after the euro hit a fresh one-year low against the dollar amid worries about debt-laden Greece, traders said.

The market also took a hit following news of a larger-than-expected rise in US oil inventories, which appeared to indicate weakening demand in the world's biggest energy consuming nation. New York's main contract, light sweet crude for June, dropped 2.77 dollars to 79.97 dollars. It has now lost 6.22 dollars in two days. Brent North Sea crude for June delivery tumbled 3.06 dollars to 82.61 dollars a barrel in late New York trade.

"Oil pulled back as the dollar hit one-year highs and concerns over the health of the eurozone economies gripped markets once again," said analyst Marius Paun at trading house ODL Markets.

With traders fleeing the euro, they sought the relative security of the dollar, which put some downside pressure on oil. "The overriding concern about the strength of the global recovery also sent jitters across commodity markets, with traders concerned that any issues in Greece may halt the recovery."

In foreign exchange trade on Wednesday, the European single currency slid to 1.2804 dollars -- hitting the lowest level since March 12, 2009. Meanwhile, the US Department of Energy announced Wednesday that US crude stockpiles soared by 2.8 million barrels last week. That was far greater than market expectations for a gain of around 700,000 barrels, according to analysts.

The oil market was also gripped this week by the Deepwater Horizon oil rig disaster in the Gulf of Mexico. The rig, operated by British energy firm BP and owned by US contractor Transocean, sank on April 22 -- two days after a massive explosion killed 11 workers.

Since the explosion, an estimated 2.5 million gallons of crude have spewed into the sea from a well below the rig. BP capped one of three leaks on Wednesday, as emergency crews rushed to protect fragile shorelines and islands at risk from the slick.

Days of work off the coast of Louisiana with underwater submarines nearly a mile below the surface finally bore fruit as a valve was secured over the smallest of the three leaks and the flow shut off. The capping does not alter the overall amount of crude spilling into the sea.