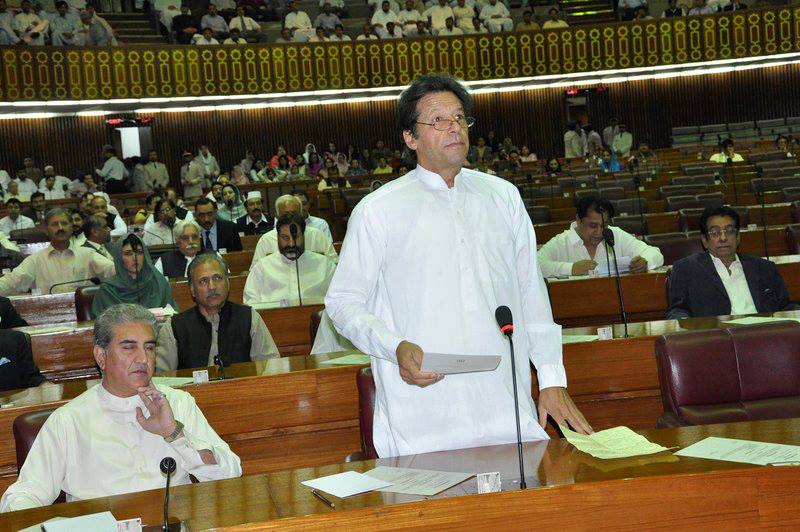 ---
ISLAMABAD: Pakistan Tehreek-e-Insaaf (PTI) Chairman Imran Khan is unlikely to attend Friday's budget session in the National Assembly, party sources confirmed to The Express Tribune on Thursday.

His decision of staying away from parliamentary proceedings may cost him membership of the National Assembly though he survived one such attempt by the opposition.

Imran lags behind Nawaz in NA attendance: report

May 17 was the last time when he appeared in the lower house of parliament to clarify about once owning an offshore company.  And it is not known, perhaps even to Khan, if he would attend Friday's budget session.  Sources in the PTI told The Express Tribune that it was "highly unlikely" that the chairman would attend the session.

According to reports, Imran Khan attended just 17 sittings of the National Assembly in the past three years. But this does not mean that he is not entitled to salary.

An official of the NA Secretariat told The Express Tribune that attendance record of every single sitting was maintained and sent to AGPR for salary calculation.

Those who regularly attended NA sessions were entitled to allowances and other perks whereas absent members were entitled to fixed salaries, he added.  The official said that Khan "must have had received all salaries".

Imran Khan anticipates snap polls by year-end

According to Rules of Procedure and Conduct of Business in the National Assembly 2007, a member is required to submit a leave application if he is not able to attend the sitting.  The leave applications are read out by the Speaker before every session. But, over the past three years, the PTI chairman's name hardly featured in that list.

As per National Assembly procedures if a member is absent without leave of the Assembly, for 40 consecutive … sittings, the Speaker shall bring the fact to the notice of the Assembly and thereupon any member may move that the seat of the member who has been absent be declared vacant. MQM and JUI-F had earlier moved a resolution seeking to de-seat Khan for his continual absence.

"We take notice and action when a member is absent for 40 consecutive days," Saeed Matila, the Secretary to Speaker, told The Express Tribune.

Published in The Express Tribune, June 3rd, 2016.