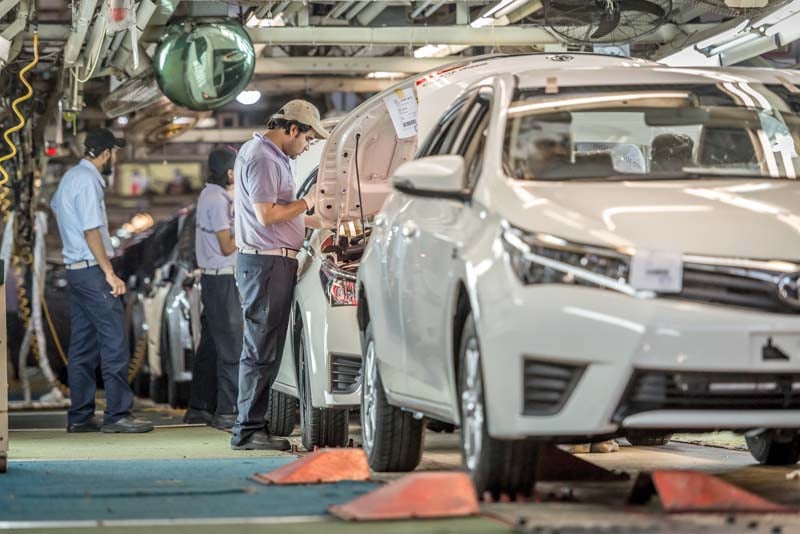 ---
KARACHI: Indus Motor Company (IMC) CEO Parvez Ghias said Toyota Japan's move to buy out its subsidiary Daihatsu augurs well for Pakistan, a hint that the country could see the introduction of a smaller car, but stopped short of giving a timeframe and divulging details.

Toyota Motors – the Japanese carmaker – had announced earlier this year that Daihatsu will now become its fully-owned subsidiary by way of a share-exchange which is expected to be completed by August 2016.   The purpose of the deal is to give Toyota an upper hand in the small car segment – in which Daihatsu specialises – that would enable it to focus on emerging economies where the sale of vehicles is expected to speed up in the wake of falling oil prices, reduced inflation and lower cost of car financing.

Toyota unveils self-driving car

Analysts at the time said the deal – worth about $3 billion – was part of Toyota's strategy to strengthen its push into the compact cars' segment for emerging markets.

In an exclusive interview with The Express Tribune, Ghias said there is a huge requirement in the economy segment of passenger vehicles when asked if IMC – the company that manufactures and markets Toyota brand vehicles in Pakistan – would introduce a smaller car.

"If a million motorcycles are sold [in a year], it shows that there is a need for a smaller car since that is the natural progression for these buyers," said Ghias. "Unfortunately, Toyota does not have a car in the economy segment. Daihatsu had it [Cuore] before it took a strategic decision, which was not specific to Pakistan, to end production since it felt the product had ended its life cycle.

"It decided to concentrate on its domestic market, but since then it has increased its focus in Indonesia and Malaysia. Going forward, I hope there is a change of heart on Pakistan.

Pak Suzuki irked by new auto policy, calls it 'disaster' for existing players

"There's nothing concrete enough for me to say that Daihatsu is coming to Pakistan. However, Toyota Japan has increased its holding in Daihatsu and that means greater control over it. As a result, to what extent will there be a greater opportunity? Time will tell.

"But it augurs well for the country. We are in dialogue with the principal company that we need another model. There's a time for everything and when it happens we will announce it. At this point, nothing can be said.

"What I can say that we are in constant talks with Toyota Japan and a consideration is always there. But timing is the key in such a decision."

Ghias added that an effort was made to introduce a vehicle in the smaller car segment when Cuore was discontinued, but nothing looked feasible at the time.

"At the end of the day, you have to be able to make money out of it. If you can't, there's no point."

The CEO, who has been at the helm since 2005, also advocated greater choice for a customer. "If the government thinks a European manufacturer is the way to go, that's great.

"There is definitely space for more players. Some players [in the auto industry] are currently not up to their full capacity, but the recent growth has been impressive. The import of used cars shows there is room in the market."

Auto industry enjoys unequaled run of success

Addressing criticism that consumers often face delays in vehicle delivery, Ghias said the process has been simplified by a 'car availability' feature, stressing that the time period is restricted to two to three months.

Meanwhile, commenting on the auto policy, in which the government is looking to encourage the entry of new players, Ghias said the policy could have been introduced four years ago, which by now would have reaped benefits for consumers.

But while he stressed that the policy was delayed, Ghias said it would hopefully have a positive impact on the Pakistani market.

"Growth lies in this region. Europe is going through an economic slowdown and Japan has introduced negative interest rates.

"Hence, the future lies in  India, Pakistan, Vietnam etc. There is a need to have the right policy framework in place and I hope the government realises this since the outside world does."

The writer is the business editor

Published in The Express Tribune, May 30th, 2016.

Like Business on Facebook, follow @TribuneBiz on Twitter to stay informed and join in the conversation.
COMMENTS (18)
Comments are moderated and generally will be posted if they are on-topic and not abusive.
For more information, please see our Comments FAQ